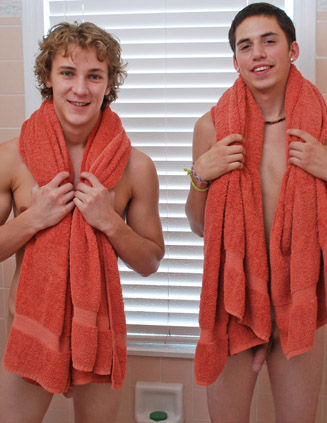 Everybody will have a squeaky clean time today. :-)

Ayden Troy barges into Gabe Parrillo's shower time. It's a shock for Gabe because he's taking a shower, and not prepared for man-on-man action. Despite his "what the fucks" when Ayden pulls back the curtain, our newbie gladly accepts a soap down.

When the water is turned off, Ayden hits his knees.

"All right, man. You're getting your dick sucked," Ayden announces.

Gabe submits but who can blame him? He puts his hand on Ayden's wet hair as he chokes on that tool.

"Fuck. That's a hard dick," Ayden says.

With a sweet mouth like that on it, of course it's hard.

Ayden's blowing skills are crackerjack considering his limited time with us. He makes sure to smooch the head, use lots of spit, and jerk the meat a little. Dude is a pro! LOL

"Yeah, bro," Gabe moans.

Thank goodness there are things for the newbie to hold onto because Ayden is making him weak kneed. Look how Gabe rubs his nipples. Wanna bet he wouldn't have complained if Ayden stood up, turned him around, and put some dick in that virgin hole? :-)

Gabe sits on the edge of the tub and Ayden keeps working. Sucking on that tool like he wants a sweet surprise. And look at Ayden's own sausage. Full mast, baby!

The sound of sucking echoes in the room. Ayden jerks his partner and Gabe says he's getting close. You'll pop yourself when you see Ayden lick spit off of Gabe's thigh.

"I'm close. Keep going," Gabe pleads.

Gabe's pearly load blankets Ayden's hand. He stands up and starts stroking his own stiff rod (too bad Gabe didn't offer any assistance). The camera gives us a great view of the stud's body.

Ayden's juice lands all over Gabe's thin chest.

"Yeah, cum all over me," Gabe orders.

Ayden almost does, his load coating the skinny lad's chest. All that nectar, alas, has to be washed away, so the shower water returns.

Should we have another shower scene? Who should be in it?