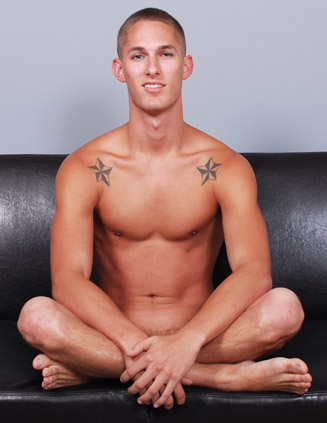 Who does't get tingly with anticipation when a newbie sits on the BSB couch? Today those trembles
will hit the red zone.

We have Jake Hartley in front of the lens today. He's here for the reasons we've come to love.

"I like the money," Jake says when the cameraman wonders why he is gracing us with his sexy self.
"Helps with rent. Pay some bills."

The 19 year old seems to have no problems with the fairer sex. He apparently makes them so wild
that one gave up the booty at an "Avatar" showing.

"She just hopped on. We were in the back."

Hard not to feel jealous.

The lanky stud has two tattoos, one right below each shoulder. He got them when he was 15. Such
a bad boy!

The clothes are off, he's on the couch, and the jerking begins. Jake is a little nervous, keeps opening
those eyes to peek at the camera, but his dick is into the scene. His jimmy jammer is slightly thick.
The type of knob a whole lot people would cheerfully ride in a darkened movie theater!

Jake is a one speed stroker, medium, and keeps his hand on the shiny head. When he gets on his
stomach to show those tanned cheeks, there's the anxious straight boy laugh. Ladies: you gotta
teach your men about the beauty of their buns!

Jake gets on his back and we get a peek of his hole. So tender and fresh. Will he allow someone
near it one day?

Jake is not a boisterous cummer, but the load is plenteous. His belly button is swamped in treasured
juice.

"That was fun," he confesses after calming down.

Jake is right. It was fun. How do we get him back for more merrymaking?