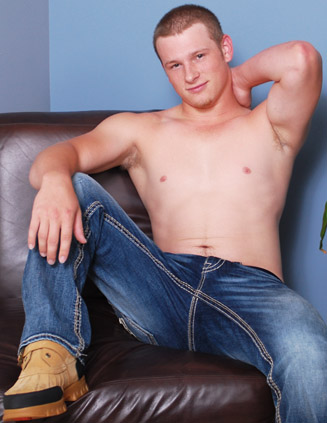 Lovers of laconic men of beef will drool over Jesse Dade. The 20-year-old isn't a talker, but that's
OK. He has enough masculine sexuality to keep a mid-sized town satisfied.

The 5-foot-11-inch newbie's body, brawny and compact, is the product of manual labor. He
worked in an oil field; he confesses the gig wasdifficult. That job is gone, and he needs some
cash. Today, we won't ask him to work too hard.

Jesse is recently out of a two year relationship, but he gets a fair share of fun. Either by fucking or
jerking.

"Maybe once a day," he says when asked about his stroking regimen. "At minimum."

A warning: please be sitting before the close up of his nipples. You'll want to bite the screen to get
to those perky goodies.

Another warning: have the smelling salts on hand when pulls his boxers down to give apeek of
that pale, strapping ass. You'll faint conjuring all the things that can be done to it.

Jesse puts some lube in his hand to get things started. He gives the camera a few smoldering
glances. When all of the blood reaches the proper destination, his curved dick looks it would fit
perfectly in a wide gaping mouth or tight hole.

His self pleasure technique switches from full and fast stroking to slow and tender. Wonder if he
does the same thing when he fucks (grin)?

When he stands up, the camera gives the view Jesse has when someone is pleasuring his johnson.
Many BSB members will imagine themselves on their knees, taking care of anything Jesse wants.

When he goes to the bed, he spreads those burly legs wide. It's like he's used to someone
crawling up his thighs to get to his dick. Who doesn't want to take that trip?!

Everything about Jesse is big: his feet, thighs, dick, nipples; even those ears!

His load is massive too, glazing everything from his hand to belly button. Jesse has never nutted
in front of a guy before, but seems pleased with the experience.

"I feel a whole lot better," he says to the cameraman after his breathing has calmed down.

This mountain o' man must return to fuck someone into submission. If he doesn't, this world is
cold and cruel.