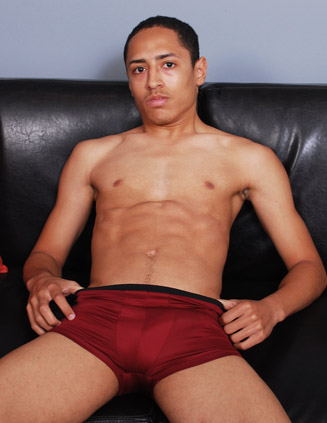 Hopefully everyone in BSB land is having a good Memorial Day weekend (peace, and safety, to
America's fighting men and women).

We have another newbie this week. Brade Castro recently turned 18. He needs some extra cash
because neither he, nor his girlfriend, have heard of the feminist movement. Apparently he pays
for everything. When are straight men going to get hip and have their girls read Adrienne Rich
(RIP). Not only will they save cash, but could get some "you are such a sweet and sensitive guy"
booty.

Our broke lad is a little nervous. Those puppy eyes make him look all sweet and innocent, but
don't make any judgments yet. He's not taken his clothes off.

He stands up and takes off his shirt. Runs a hand over his abs. He notes he's proud of them. Who
wouldn't be?

Then the pants are lost, and someone is excited. As in in very much so!! His red shorts are already
stained with pre-cum. Judging from the size of the monster, Brade's girl must stay happy. He rubs
that big 'ol thing through the fabric. We learn our well endowed fellow has sex everyday. How does
his girlfriend handle all that meat?

Brade sits down and continues to stroke. That deer in a headlight visage is starting to fade. His
eyes are gleaming "I need to get off real soon."

He's told to whip it out, and wowee! His dick is so succulent. It's surrounded by close clipped
pubes; there's a pointy, shiny, head. And don't forget the furry balls that look like they can be held
in your hand for hours.

He plays real slow with himself, making sure to give that bulbous head some extra swipes. He
starts to play with a nipple, and it's easy to imagine a warm mouth nibbling those carmel drops
with extra care. The camera comes in for a closeup and when he winks at us, Bambi has left the
building. All we have now is a hot and bothered stud.

The cameraman asks if Brade's lady friend ever played with his butt hole. Alas, she isn't the
adventurous type. However, for some extra cash he will try it himself. Brade gets on his back and
the second a fidget gets near his hole thosetoes turn inward! When he puts one finger in the
uncharted area, it's hard to dismiss his moaning. Anyone want to bet what he and his girl do next
they're in the sack?

Let's get this out of the way: the kid has has bottom slut potential. He works two fingers in his ass,
sans lube, and is ready to pop. When his fingers start going in and out, his dick inflates to monster
size. And those moans of his? The sounds of a big dicked bottom boy meowing for an intense filling.

"Felt pretty good, didn't it," the cameraman asks.

"Yeah. I never thought it was like that," Brade whispers.

He returns all attention to his baby maker, soon reaching the point of no return. Brade calls a god
with a curse or two. His load gushes out in two sloppy spurts, landing just so on his caramel colored
tummy.

Anyone want a return trip for Mr. Castro?