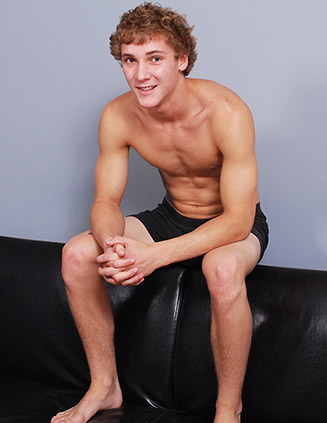 BSB solo vids typically fall into two categories. The first is when the model plays to the audience. In
the second, the performer is so sexed up from self pleasure he can't even be bothered to notice the
tape is rolling

Ayden Troy's vid is BSB solo number 2. The 19 year old hails from the Golden State. He's here for
one simple reason.

"I like to jerk off," he says to the cameraman.

He has other hobbies too ("I like to rock climb. Snow board. Hanging out with friends").He's
unemployed, so cumming for an audience seemed like a good way for cash. His girlfriend is cool
with him being here.

"She didn't think much of it," Ayden explains when asked what his girl thinks. "She was fine with it.
'OK. Go for it.'"

Most of us would be fine with anything this stud did. His head is topped with a curly mop. When he
stands up and takes off his shirt, he expresses admiration for his arms. He should love them. Those
are some impressive guns.

The rest of him is also top notch. Chiseled abs, pitch perfect nipples, and a neck deserving of
multiple hickies.

Ayden was a precarious kid because he insists he started jerking off when in kindergarten. The
cameraman is incredulous at this tidbit, but Ayden is insistent.

"Early bloomer," he says.

When Ayden takes off those pants, it's hard not to pay attention to those creamy thighs. He has a
snowboard on one (he's got a story about it), but both are lean and muscular. Try not to your
imagine your head nestled between them (grin).

The underwear are lost and his back is as delectable as the front. He starts jerking off and the
trance he goes into to get hard is sort of hot.

When Ayden reaches full mast, it's easy to feel sorry for his gal pal. His tool is long and beefy.
There are times when his monster needs to be doubled fisted.

Another cute thing about him is how he stares at his dick. Like he's transfixed by it.

When he lays on that perfect stomach, it's impossible not to imagine a big dick breaking the seal of
that wonderfully sculpted ass. He's' good at taking directions because when asked to spread those
cheeks there is no hesitation. We geta brief glimpse of the puckered opening. It looks so
tight….and inviting.

When he hits his back, he finally looks at the camera. We get a few sexy stares, but it's hard for
him not keep attention on that plump dipstick.

Ayden is non-dramatic shooter. His man juice lands right above the pubes, He really grooves to
feeling himself up after the nut. He laughsand leans back from all the excitement.

He's earned a return trip, don't ya think?