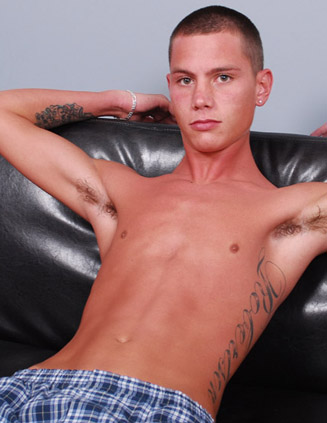 Twenty-year old Carter Blane is in our studio today. The skinny lad originally was living with his
girlfriend. However, that set-up didn't last (dear straight woman: we need to talk about letting the
cute ones get away). He's living on his own now, and needs an additional revenue stream.

"Just got bills to pay," Carter says.

He takes off his shirt, and it's clear he's been tanning. He's just returned from vacation (lucky guy).
Whendescribing what he usually does for fun, Carter sounds like a laid back beach citizen.

"Hang out. Party. Go to the beach."

When it comes to jerking off, his set up is pretty routine. Nothing too outlandish.

"In bed, with the computer, at night."

Lotion might be an option, but it has to be close enough to be reached. If not, Carter will make do.
He's never stroked around the guys or jerked off in front of a camera. Despite this, he's always
been curious about his Curious George. Carter has six years of cock playing behind him.

He's a boxers guy ("All the way"), but the underwear can't hide Carter is packing something fierce.
He's never taken a measurement himself, but people have offered size suggestions.

"I've been told seven,' Carter says.

When he finally shows the goods, even the cameraman is amazed. Anyone notice it's the skinny
dudes with the monster meat? Carter's curves toward him a bit, slender and slim like its owner.

He pumps himself at an unhurried pace, making sure to go from the base to the tip of the head. He
eventugs at those melt in the mouth balls.

Carter may be a little nervous, but the sighs prove all we need to know. This guy is horny! He
stands up and plays with both nipples, tiny little things that require a test drive.

He sits back down, but declines a little show of his butt. When asked, he smiles, shakes his head
no, and keeps slapping his cock. Such a macho top!

The camera is gone. Sure it's there and we are transfixed at Carter's handiwork, but he's not
putting on a show anymore. He's all about coaxing a load out of that bald-headed beauty.

Carter acknowledges the audience once with a raffish smile that is certain to make him a BSB
favorite. If he's not already (smile).

Carter is a low key orgasmer. No loud protestations or body shakes. However, his load is
abundant. Enough to fill a lucky guy's belly or coat the insides of a worthy man hole.

When asked if he might be up for another visit, the rakish grin returns.

"Definitely,"Carter responds.