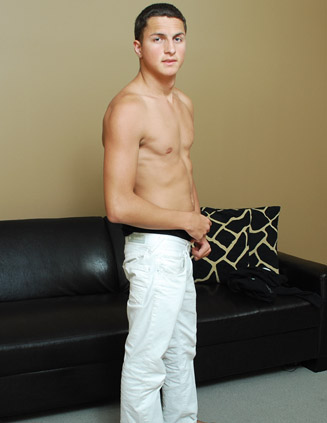 The newest hottie in the studio is Dakota, who is here to show off his goods in a solo exhibition. This 18 year old from New Jersey
admits he only needs to jerk off two or three times a week because he gets laid a lot back home. Dakota also went on to admit
that he lost his virginity at 15 but only started jerking off at 16 and ultimately, he has fucked around 40 girls. Taking off his t-
shirt, Dakota left his white singlet on as he went on to say that he wasn't really interested in watching porn, however, when he did,
he preferred watching girl on girl action. Dakota stood up and stripped off his singlet, revealing a very toned body even as he said
that his favorite part of his body was his abs. With a hint of a grin, Dakota obliged me by doing a couple of crunches that showed
off his six pack while he went on to say that normally, girls loved his abs as well. With a wider smile, Dakota joked that he referred
to his abs as being a 'pussy magnet'.

Dakota undid his the button on his white jeans, sliding them down his muscular legs before pulling them over his nicely shaped
bare feet, leaving him in just a pair of black boxers. Turning around, Dakota stood still for a brief moment or two, letting the
camera take in the roundness of his ass cheeks through the black material of his loose leg boxers. I told him to take them off so
Dakota walked over to his pile of clothes on the floor, his boxers quickly joining the pile. With a somewhat relaxed smile on his
face, Dakota promised that he would give the audience a great show. Wrapping a hand around his soft shaft, Dakota slid his hand
up and down the full length, quickly encouraging his dick to stand to attention. As he wanked off, Dakota would glance towards
the lesbian porn playing on the tv every now and again, getting more and more turned on as the minutes ticked by. Shifting from
one foot to the other, Dakota was panting heavily as he put in some hard wrist action. As he started to get a little unsteady on his
feet, he decided to sit down instead.

Making himself comfortable on the couch, Dakota's hand flew up and down his thick shaft, however, he paused for a brief
moment when I zoomed in with the camera. Once I took a few steps back, Dakota moved lean up against the arm of the sofa and
continue working his hard on. The more turned on Dakota got, the more he touched himself here and there, Dakota almost
absently running a hand back and forth across his stomach. Soon enough, it was clear that Dakota was getting closer to cumming,
the sweat beading across his brow even as he panted all the more. Shifting once more to sit up straight, Dakota put more effort
into wanking himself off, obviously on the edge of orgasm. All of a sudden, without warning, Dakota shot his load over his
muscular abs, the cum dribbling down into his shaved pubes. He left the cum sitting there as I zoomed in, taking a great shot of
his huge load. With a towel, Dakota wiped himself off as he, with a broad grin, admitted that it hadn't been a hard task at all. I'm
sure Dakota will be back in the studio in no time at all and I wonder what we can encourage him to do next time?