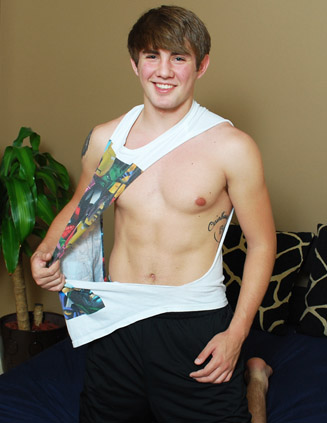 Nick Niko is the newest hot boy to grace the Broke Straight Boys studio. Although he jerks off a lot, Nick has never strutted his
stuff on camera before. As he desperately needs some quick cash to pay his overdue rent, he decided to contact BSB to come in
for a solo jerk off scene. Funnily enough, his boss actually suggested BSB to him. Nick stood up as the camera zoomed in close
and panned slowly over the large lion's head tattoo on his upper arm, something that Nick got because he is a Leo. Pulling his
ripped t-shirt slightly to one side, Nick exposed his nipple as he admitted going to the gym three or four times a week as he likes
to work out. I asked him if he was nervous but Nick said it was just doing something he normally does anyway.

Taking off his t-shirt, Nick revealed a toned, taut upper body that was clear evidence of his time in the gym. With a slight grin on
his face, when asked, Nick said that he had slept with around thirty six women and that he first had sex when he was fifteen. The
eighteen year old went on to say that he had started jerking off around that time as well. Nick, standing at just on 6 foot and
wearing a size 13 shoe, has just graduated from high school. Turning around, Nick showed off the large tattoos decorating his
upper back; a lions head and winged ankh. He then pulled down his shorts and undies, confidently displaying his hairy ass crack.
Nick sat back down, taking off his shoes and socks even as he said that his girlfriend knew all about what he was about to do.

Standing in just his boxers, Nick said that his back and abs were his favorite parts of his body. I told him to do some flexes to
show off his muscles and surprisingly, Nick seemed a little shy as he flexed his arms and back. With a somewhat nervous smile,
Nick turned back around and pulled down his boxers, showing off a short but fat cock resting on a pair of well rounded balls.
Hopping up onto the bed, Nick laughed as he made himself comfortable and sitting with his legs spread wide, he started to gently
play with his cock. Watching some straight porn, Nick slid his hand up and down his cock shaft as he worked on getting hard.
However, every now and again he would glance towards the camera as if trying to decide if it was more of a hindrance or a turn
on. Soon enough though, Nick seemed captivated by it's presence and it was clear that it was a definite turn on for him. Sending
the camera sultry looks, Nick's dick got harder by the second. Hopping up onto his knees, Nick kept wanking off at a slow and
steady pace. Going in close towards him with the camera didn't seem to faze Nick, instead, it just turned him on all the more, Nick
panting fast and heavy.

Mixing it up, Nick slid off the bed and onto his feet, standing in front of the camera. He grabbed the bottle of lube and applied a
large dollop to his thick cock shaft. His hand flew up and down the length of his dick as he got closer and closer to the edge of an
orgasm. At my request, Nick stopped wanking for a couple of moments and posed with his arms behind his head, looking every
inch the professional model. With a somewhat embarrassed half smile, Nick gave his dick a couple of swipes before hopping back
onto the bed. A dollop more lube and Nick was quickly jerking himself off in earnest. His hand flying up and down his cock shaft,
Nick hurtled towards orgasm. A minute or two later, without a word, Nick shot his load all over his stomach and treasure trail.