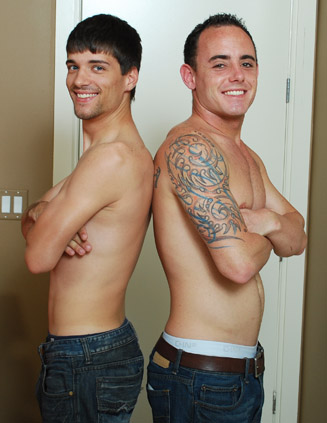 Ty and Darren are in the studio today, along with one of Darren's friends, his favorite dildo. Right away, it was easy to see that the
two boys had a great chemistry together and it promised that the shoot was going to be something extra special. While Darren
needed money for a new couch, Ty wasn't too sure what he was going to spend his money on, however, he knew it was going to be
something big. As we kept chatting, Darren couldn't stop pretending to wank himself off via the long, realistically shaped dildo. The
boys stood up, taking off their t-shirts and throwing them down on the floor, Darren and Ty showing off their buff chests and upper
arms. I told Ty that I wanted to see his dick and as he undid his belt and unzipped his jeans, I zoomed in close with the camera even
as he freed his cock from the confines of his white underpants. I quickly crossed over to Darren and asked to see his dick as well,
Darren quickly pulling down his jeans and undies before making his cock sway from side to side, much to Ty's amusement.

The two boys got completely naked, sitting down next to each other on the edge of the bed. Playing with their half hard cocks,
Darren and Ty worked on getting themselves ready for action. Ty was unable to tear his gaze from Darren's dick even as he
wondered about the size, however, it was obvious that Ty wasn't that put off. Once Darren's dick was rock hard, Ty opened up wide
and leaned over, instantly swallowing down Darren's boner. Ty lavished Darren's dick with attention even as he wrapped a hand
around his own dick and pumped the hard shaft. There was no doubt that Darren was loving a blowjob from a complete pro, Darren
groaning in pleasure as Ty slapped the cock against his tongue. Despite Darren having the title of the noisiest cocksucker at Broke
Straight Boys, Ty was definitely giving him a run for his money as he slurped up and down the thick shaft. Ty was working hard for
his money, the sweat rolling down his bare chest even as he came up for some much needed air.

However, before he could even attempt to go back down, Darren pushed him back with the clear intent of returning the favor.
Immediately swallowing Ty's cock all the way down to the balls, Darren slowly bobbed up and down as he showed off his impressive
range of oral skills. Ty was so into having his dick sucked, that he encouraged Darren to go down even further by pressing on the
back of his head. Sucking on just the head of Ty's cock, Darren had Ty gripping onto the bedsheet in pure pleasure. Darren lifted
Ty's leg up onto the bed, giving Ty's well shaped ass cheek a hearty slap that had Ty asking for more. Shifting things around, the
two boys scrambled into a 69 position that had Ty on the bottom and Darren on top. The boys now had the best of both worlds; a
cock in their mouth and mouth on their cock. Ty had a firm grip on Darren's ass cheeks as Darren dipped his dick in and out of Ty's
mouth. Darren, on the other hand, dived all the way down until his nose was nestled deep in Ty's pubes. The two boys indulged
each other for a few minutes more before I handed Darren his dildo and told him to get busy.

As Darren got himself prepared, Ty showed off his cock, slapping it against his flat stomach and giving it a twirl. Laying on the bed,
his legs spread wide, Darren lubed up his ass hole and then, gently inserted the long dildo. Once it was all the way in, he slowly
drove it in and out of his tight ass. Now comfortable with the feel of it up his ass, Darren whispered for Ty to hold onto his leg even
as he slid Ty's dick into his hot, wet mouth. Now Darren was being fucked from both ends; Ty face fucking him while Darren
pleasured himself with the toy. There was no doubt that Darren was eager for Ty's dick, almost moaning in disappointment when it
accidentally slipped from between his lips. Swallowing it down again, Darren allowed Ty to drive his cock all the way down his
throat. All of a sudden, Ty pulled out and started to jerk himself off. A few moments later, he shot his load all over Darren's waiting
tongue. Now it was Darren's turn to show off his cum shot. Laying back down on the bed, Darren fisted his dick while Ty helped out
by licking Darren's hairy balls until a gush of cum sprayed over Darren's stomach and hip.