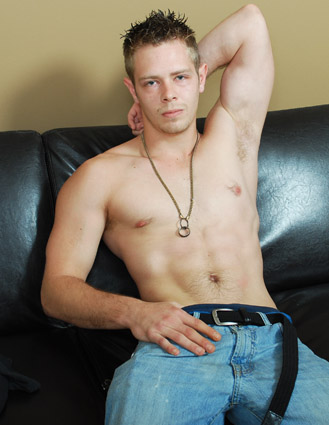 The new boy in the studio is called Steve who hails from Nevada. Steve has never jerked off in front
of a camera before so although he is a little nervous, he's looking forward to getting his hands on
the cash. He is also looking forward to finding himself a new girlfriend after his last one turned
out to be pretty nuts. I asked Steve how often he jerked off, Steve replying that jerked off pretty
often. With it being time to get the show on the road, Steve stood up and stripped off his t-shirt,
revealing a well defined and muscular upper body that he says is all natural as he hasn't worked out
in a while. His jeans hit the floor next, along with his shoes. Standing in only his navy blue
boxers, Steve cupped his dick through the soft material before turning around and showing off his
well rounded ass. Ever so slowly, Steve rolled down the waistband on his boxers, allowing the camera
to capture a clear shot of his ass inch by inch.

Hitching his boxers back up again, Steve turned around and sat down on the couch. Pulling his dick
free from his undies, Steve started putting in some serious wrist action as he worked on getting his
dick rock hard. Although he was concentrating on the straight porn playing off to one side, Steve
found that he couldn't help but glance at the camera every now and again. His hand flying up and
down his stiffening shaft, Steve kept looking towards the camera, obviously finding it's presence in
the room quite erotic and helping to get him all the more turned on. Soon enough, Steve was so hard,
he could crack concrete with his cock and the wanking began in earnest. Gripping onto the top of the
couch behind him, Steve wanked himself off at a furious rate, making his balls bounce up and down
against the waistband of his boxers.

Steve let go of his dick for a brief moment, if only to slide his boxers off and throw them onto the
floor with the rest of his clothes. Once done, the wanking resumed with a vengeance. Every now and
again, Steve slapped his cock against his washboard abs, hard enough to make any man wince. There
was no doubt that Steve liked the camera being in the room as he licked his lips and stared directly
at it. By now, he had worked up a sweat from all his hard work, the sweat rolling down his face as
he kept pumping his stiff shaft. Mixing it up a little, Steve shift up onto his knees, a movement
that only served to get him all the more excited. Panting hard, Steve stripped his dick at a fast
pace, gently stroking the inside of his thigh with his free hand. Despite almost sliding off the
couch due to his enthusiasm, Steve fucked his own hand hard and fast. His hips pumping back and
forth, Steve shot the camera a look that was full of desire.

He was so close to the edge of the sofa, he almost toppled over onto the floor but with obvious
skill, Steve kept tugging on his cock. 'Oh Yeah!' he moaned, panting hard as he fondled his balls.
There was no doubt that Steve was going to cum any moment and when he did, it was going to be a
fountain. Laying down on his back, Steve's hand flew up and down his thick shaft, only briefly
pausing in order to give his heavy balls a squeeze. Slapping his cock against his stomach, Steve
wanked off furiously as he teetered on the edge of an orgasm. His toes curling, Steve suddenly shot
his load all over his stomach and into his thick pubes. With such an enthusiastic performance, I'm
sure Steve will be back as soon as he can.