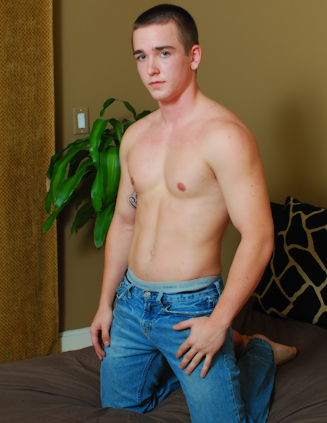 Caleb is the latest broke boy to enter the studio of Broke Straight Boys. He's 19 years old and unemployed, thus, is here to jerk off for some quick cash. As we chatted, Caleb said that his sex life was fairly regular and that he had had a shag three times in the past week. I commented on his nice form, Caleb saying that he liked a variety of sports and worked out fairly often. Standing up, Caleb took off his grey singlet, revealing a stocky build, Caleb indicating that his chest was his favorite part of his body. Stripping down naked, Caleb obliged me by doing a couple of flexes, showing off his muscles and a tattoo on the underside of one arm.

Hopping up on the bed, Caleb scooted back a few inches. Wrapping a hand around his semi hard cock, Caleb started to work on getting hard as he watched some straight porn. He moved onto his knees, his hand moving up and down his hardening shaft in a vigorous manner. Somewhat nervous, Caleb couldn't help but glance towards the camera every now and again. It wasn't long before his dick was rock hard, Caleb panting from work out. I suggested that he roll over onto his stomach and hump the bed, something that he had obviously never done before. Laying on his stomach, Caleb shot a glance towards the camera as he gently rubbed his cock up and down the bed sheets. As he gripped the edge of the mattress, Caleb's ass cheeks clenched on every downward slide. I asked him to spread his ass cheek, Caleb reaching behind and obligingly holding his cheek's apart, showing off his virgin hole.

With one hand resting on his ass cheek, Caleb humped the bed in a slow, sedate pace, pausing only to shove his dick back between his legs. Rolling back over, Caleb sat up against the headboard of the bed. Dick in hand and legs spread wide, he put in some serious wrist action while gazing avidly at the porn. However, Caleb couldn't resist looking towards the camera, something that he may have secretly found erotic. His hand flying up and down his cock shaft in a fast and furious motion, it was clear that Caleb was only minutes away from showing off his cum shot. Suddenly, without a sound or warning, cum dribbled down his shaft before pooling in his nest of shaved pubes.