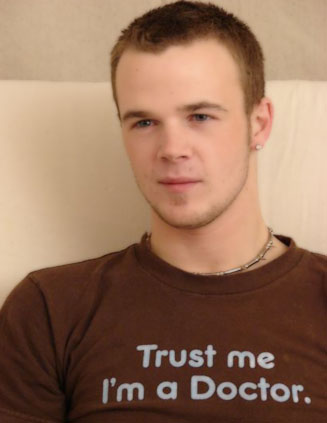 Austin is back again for another shoot and he has just had his 21st birthday. He blew his last check on alcohol for his birthday, and so he is broke again. I had explained to him about how I had a scene for him and a female to do together. He was excited to get to do the shoot, however when he got on set I had some disappointing news that I had to give him about the girl canceling and I had to change the plans. Austin said that he would be down for the shoot anyway, but was interested in what kind of changes I had in mind. I explained that I would pay him $500.00 to jerk off next to another model Mario as soon as he got her.

Going for the shirt I figured that I would have him go ahead and start with the shoot. Mario arrived on the set and when he came in I explained how the shoot was going to go as he took a seat next to Austin. Mario was really interested in the girl and where she was. I hoped to have another one here for a threesome that I hoped to put the two of them in with, but that was going to have to happen a different day. I had the guys finish getting undressed and as soon as the pants hit the floor I noticed that Austin had a semi boner going on. With a porn playing it didn't take long for the two of them to be pumping boners. Austin was a laid back guy, and you can see that in the way he sits on the couch with his arm behind his head. Mario on the other hand is still very new to doing stuff on camera so he held himself back to start.

Moving the shoot along I had offered the guys to make an additional $200 if they would suck each others cocks. Of course, they were very opposed to the idea, and when I brought up the fact that they were here to make money to make the bills go away things seemed to change. Austin had done a shoot before so he knew that it was only about the money, and Mario was the guy to suck first. Placing his mouth on Austin's dick he would twist his head a little bit as he would come up making Austin moan. Mario played with his dick a little bit to keep it hard. Mario would take all of Austin's cock in his mouth and would create a seal with his mouth on the cock as he pulled up. Austin was enjoying this, and he even was turning into a talker letting out some words and moans.

Switching things up I knew that it was time to get Austin to return the favor and suck on Mario's cock. He was not too excited with that part, but of course I want my $700.00 worth of a shoot. Austin put his mouth on Mario's dick and started to go to town. He went kind of slow to start and stopped to give the cock a good licking. Then he went up and down really fast with his head, it looked really hot when I was watching it. Austin was a guy that would suck and then lick to change things up. Mario made some very good faces for me and seemed to bite his lip a couple of times to hold back. As soon as I said that they looked hot together and that it would be good to see them fuck I grabbed their attention. Austin said that it wasn't going to happen and Mario wanted more money if anything was going to be considered. I offered Austin $1000 if he would have sat on Mario's cock and he said, no. I then offered $1200 and he still turned it down, but said that Mario could ride his cock.

We had ourselves a shoot, both guys agreed to continue and keep going. Austin sat back and helped to guy Mario back as he sat on it. Mario's face looked as if he was in pain sitting on Austin's monster cock. However, they kept going and Mario started to ride it. Austin was enjoying it and was letting out some moans and fucks. Listen to the sound of their skin slapping each other as Mario was getting fucked. The shoot was going great and I was so excited to had fucking going on because I really didn't plan on it happening. After a while I had the two guys switch positions and Mario laid on his back. I could tell that Austin kept his eyes closed and was treating it like pussy. It looked very hot to watch these two guys fuck and it wouldn't be a good fucking if the couch didn't make noise. Watching Austin's balls slap against Mario's ass as he went in and out made some noise and the two guys were very good at getting into the moment.

Mario was jerked himself off as he was getting fucked and a couple of times I thought he was going to shoot his load. I was ready for the cum shot and I believe that it was when Austin put his hand on Mario's leg to have that skin on skin contact that made Mario have his orgasm and shot his load. Mario came a nice size load that had shot up most of his chest and I was impressed by its size. Austin pulled off the condom and got up on his knees so that he could spray his load all over Mario. Within a minute or so Austin was spraying all over Mario the couch and seemed to be worn out from the shoot. Both guys were excited to have the money now, and next time they want that girl.