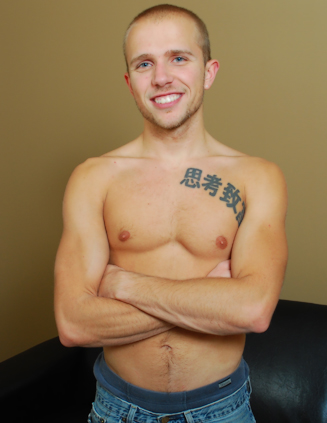 Broke Straight Boys is very pleased to introduce Rob Ryder into the studio. Some members may know him from College Dudes and
BSB's behind the scenes videos but today, he is guest appearing on our couch. Rob has a great talent with penis shaped items that
he will be showing off today. I pointed to the collection of dildos on the seat next to him and Rob took a good look at them and said
they would do just fine. When Rob stood up, I told him he should close his eyes and pretend that it was Jimmy Johnson's dick up his
ass which won a broad grin from Rob. Taking off his shirt, Rob rubbed his dick through his jeans as he considered the size of the
dildos but he was sure he could take them.

The rest of Robs clothes quickly joined the shirt on the floor as Rob kept shooting the camera seductive glances. Sprawling out on
the couch, Rob wrapped a hand around his dick and started to slowly jerk himself off. As he tugged on his cock, Rob moaned in
pleasure as he felt his dick get harder by the second. Like any porn professional, it didn't take him long to get rock hard. Leisurely
sliding his hand up and down his long cock shaft, Rob lifted a leg so that there was a clear shot of his ass hole. Breaking off for a
moment, Rob spat in his hand before massaging it into his dick. It was easy to see that Rob was getting more turned on by the
moment even as he lifted his other leg so that his ass hole was on full display. Moaning in pleasure, Rob couldn't help but run a
hand over his body, touching himself here and there.

Now though, it was time to get down to the real action. Grabbing the smaller of the two dildos, Rob lubed it up until it was
glistening wet. Rob positioned himself so that his ass was on the edge of the couch and raising on leg up in the air, he prepared to
start fucking himself with the long dildo. Inserting the head, Rob puffed and panted as he felt the toy inch inside of him. Teeth
gritted, Rob slowly rotated it back and forth even as he jerked on his own dick. As he slid the long dildo in and out of his ass, Rob's
toes were curling from the sensation of feeling it in his ass. There was no doubt that even though Rob was feeling some discomfort
as he fucked himself with the toy, there were hints of pleasure as well, especially as his dick was having no trouble staying hard.
Every now and again, Rob would wiggle the base of the toy, moaning as the vibrations hit all the right areas. Soon enough, it was
easy to see that Rob was loosened up and that it was the big one's turn.

Taking the smaller dildo from his ass, Rob stood as he slicked up the larger toy. Once done, he balanced it on the seat of the couch
and crouched over it. With a determined look on his face, Rob slowly lowered himself onto the thick dildo. Gently rocking himself,
Rob managed to sit all the way down on the toy, all the while, he panted from the strenuous activity. Rob braced himself on the back
of the couch as he raised himself up and down, groaning as he couldn't help but feel every inch of the solid toy deep inside him.
Getting into a rhythm, Rob fucked himself on the toy even as he held his dick and balls out of the way so that the BSB members
could see it sliding in and out of his stretched ass hole. The more he rocked up and down on the dildo, the more turned on Rob got
and it was little surprise when he grabbed hold of his dick and started to jerk himself off. Sweating from all his hard work, the sweat
dripped down his chest as Rob quickly got his dick standing to attention again. Jerking himself off at a furious pace, Rob gritted his
teeth and moaned when, only a minute or two later, cum dribbled down his shaft and between his fingers and onto the couch.