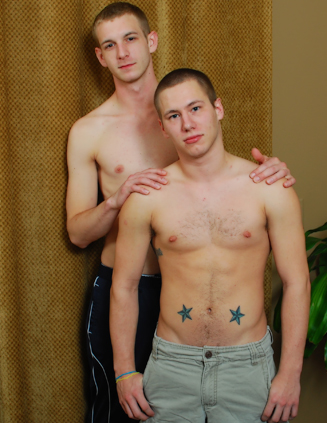 Rex and Aaron are in the studio today and are here to try something new to them; one of them getting fucked up the ass. As it turns out, Aaron is the one who is going to take it for the team even though Rex's dick size is somewhat intimidating. However, it helps that the boys had great chemistry in their last scene and as such, they feel pretty comfortable around one another. The two boys were raring to go and as such, I got them to stand up and strip down to their underwear before hopping back onto the bed. Dicks in hand, Aaron and Rex wanked themselves into a respectable hardness, Aaron unable to stop staring at the length of Rex's cock. Rex got hard so quickly, I couldn't help but compliment him myself!

As Rex was as hard as he was going to get, I told him to let Aaron have his way with his dick. Taking off his underwear, Rex relaxed back against the headboard as Aaron leaned over and took the long cock in his straight boy mouth. As Aaron loving lavished the big dick with attention, Rex gently stroked the back of Aaron's neck. While Aaron pulled out all his newly learned tricks, such as swirling his tongue stud around the tip of the dick, Rex admitted that it wasn't as bad as he had thought it was going to be and that it was better a second time round. Before long, Aaron had Rex groaning in pleasure even as he played with his own dick through his undies. In a daring move, Aaron went to deepthroat the huge dick, only to quickly pull off as he choked and coughed. Switching things around, Rex stood up beside the bed while Aaron lay down on his front and swallowed the cock again. As he bobbed back and forth, Aaron couldn't help but look up at Rex and watch his reactions to getting his dick sucked. Despite being a straight boy, there was no doubt that Aaron was getting off on the taste of cock in his mouth and there was no doubt that Rex appreciated all his efforts. Massaging Rex's balls, Aaron practised all he had learned from his previous session at Broke Straight Boys, all the while, both the boys panted from all their hard work. Finally, it was time for Aaron to get his cherry popped.

As Aaron got down on his hands and knees, Rex got himself prepared and lubed up. With a hand wrapped around his dick, Rex slowly worked his cock into Aaron's virgin ass. Aaron, concentrating on his breathing, groaned as he felt the long dick slid all the way into his ass. Right that moment, Aaron wasn't sure if he was feeling pleasure, pain or a combination of both. Rex, on the other hand, was relishing the feel of a tight ass around his thick cock as he slowly thrust in and out of Aaron. After a few moments, Rex sped up, wringing a deep groan from Aaron. Despite this being his first time, and not only that, having one of BSB's biggest dicks, Rex was the slow but steady type. Flipping over onto his back, Aaron spread his legs wide as Rex slid his cock all the way home again. Right away, it was easy to see that this new position was much better for Aaron as his uncomfortable groans had changed to 'oh yeah' moans.

Slowly gathering up speed, Rex drove back and forth into the tight ass, all the while, Aaron panted in pleasure. Playing with his dick, Aaron was now getting off on the feel of a dick sliding in and out of his ass. Aaron gripped the edge of the mattress so that Rex didn't push him off. Rex, with a big hand wrapped around Aaron's neck, asked him if he liked it, Aaron breathlessly gasping that he did. While the height difference between the two boys made things a little awkward, there was no doubt that it was worth it as both boys were loving the fucking. As Rex concentrated on maintaining his rhythm, Aaron just lay back and enjoyed the feel of a dick up his ass. Suddenly, Rex pulled out, tore off the condom and leaned up over Aaron as he furiously jerked himself off. Only a moment or two later, Rex sprinkled cum all over Aaron's stomach, pubes and dick.