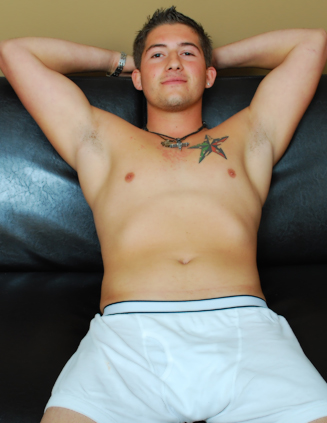 It's time to welcome another newcomer to the futon today; Jake. I had only met him about 10 minutes before I started shooting where he begged me for a cigarette. As we chatted out the front of the studio, he told me why he was broke and I ended up getting him to come into the studio for a solo jerk off. Jake had unfortunately wrecked his car after he crashed while serving to avoid hitting an animal on the road. Since the wreck, he has also lost his job since he is unable to get there to the lack of a car. The upshot is, that I offered him $50 to do a solo jerk off so that he had some cash at least. While Jake said it was a bit creepy, he was desperate enough for the cash to look past it.

Standing up, Jake stripped off his clothes, down to his white boxer briefs, revealing solid build with a star tattoo on his upper left chest. I got Jake to show off his soft cock before he started wanking and nicely enough, he was uncut which made for a pleasant change. I told him to sit back down and to start jerking himself off while I put on some straight porn for him. It was easy to see that Jake wasn't too sure of the protocol for this kind of event as he had obviously never jerked off in front of another guy before but it was good to see that he was willing to give new things a go. Sitting down, Jake kept his soft boxers on as he played with his dick and watched the porn. Surprisingly, it didn't take him too long to get rock hard, Jake pulling down his boxers and letting his dick spring free so that I could get a better shot of his hand working up and down. A shot of lube and Jake leisurely massaged it into his cock shaft.

With a wry grin, Jake admitted that he usually jerked off once a day, mainly at night so that he could get a decent nights sleep. Jake rolled his balls in one hand, lifting and separating the well formed globes. He actually looked so at ease, I asked him if he hadn't done this type of thing before but Jake just smiled and said that he hadn't. Taking off his undies, Jake threw them on the floor and kept wanking himself off. Mixing it up a little, I got Jake to kneel up on the couch and keep pleasuring himself. His hand sliding up and down his rock hard shaft, Jake was starting to pant as he got into the spirit of things, pausing only to slap his 6 inch cock none too gently against the palm of his hand. Laying down on the couch, Jake was more interested in watching himself jerk off than in the straight porn that continued to play. I asked him if I could see his ass hole but Jake lifted one leg slightly and said that he wanted more money. I told him he would only get the original $50 and after a token protest, Jake lifted his legs in the air so that there was a clear shot of his virgin ass hole.

I told him that he looked good with his legs up in the air but Jake just laughed in embarrassment and said that he didn't want to hear it. Dropping his legs, Jake started jerking off in earnest, his focus on the porn once more. As he got closer to cumming, Jake got redder in the face and across his chest like some boys do. Swapping from hand to hand and playing with his balls every now and again, it was clear that Jake was almost ready to pop his load. All of a sudden, and without warning, Jake shot over his shaved pubes, with cum dribbling down his shaft and over his hand. Jake may be back in the studio again and who knows, maybe we can encourage him to experiment a little more in the future?