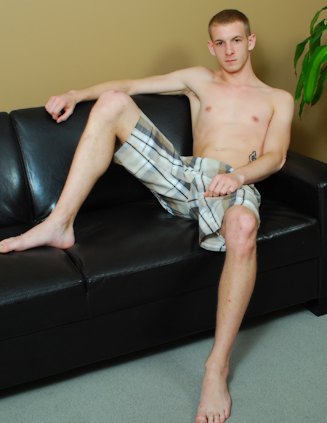 Rex is one of the tallest models we have had appear on Broke Straight Boys, standing at 6' 4" with a blond crew cut. Originally from Wisconsin, he is in Florida to take a break from things. Living with a friend, he is now just looking for a job in hospitality such as bar tending. Although he has never jerked off in front of a camera before, Rex is more than willing to give it a go. Standing up, Rex stripped off his t-shirt as he discussed that, despite his height, he was into swimming and volleyball. As he got down to some black boxers, Rex revealed a slim but toned body that had a tattoo of a wolf on his left ribs. Sticking his hands down the front of his undies, Rex played with his cock as he worked on getting hard.

Rex pulled down the front of his jocks, freeing his cock so he could slide his hand up and down the hardening shaft. Like most boys, it didn't take long for his dick to get rock hard and there was no doubt that it was an impressive looking cock. His underwear taken off, Rex gently played with his low hanging but well shaped balls as he fisted his hard shaft. Intent on watching the straight porn on the tv, Rex twisted his dick this way and that as he got more and more turned on by what was happening on the tv. Standing up, Rex leisurely put in some hard wrist action, grunting in pleasure every now and again. Rex slapped his dick hard against the palm of his hand a few times, shivering in ecstasy as it turned him on even more.

Licking his fingers and then wrapping them around his solid shaft, Rex panted hard as he worked towards cumming. With a tight hold on his big balls, Rex sat back down on the futon and leaned against the arm rest as he jerked himself off. His hand flying up and down his dick, Rex rolled his hips as he fucked his hand. "Fuck!" Rex grunted, his hips pistioning up and down even faster as he got closer to shooting his load. Tugging on his dick in earnest, Rex was only moments away from cumming. Sure enough, as he grunted loudly, cum shot all over Rex's stomach and shaved pubes before it dribbled down his shaft. It was one of the biggest loads ever seen on BSB, Rex admitting that they were normally pretty big. If that is the case, then we will definitely have to get Rex back into the studio as soon as possible to see what else this big boy can do, so make sure you watch out for him in the future!