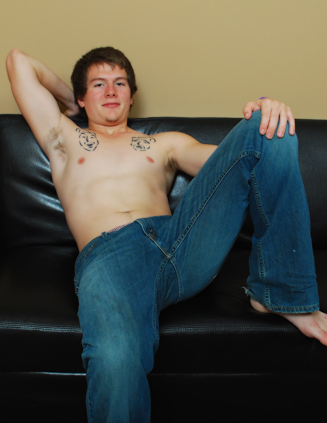 Another exciting young man takes to the couch today; Clayton. He is in the studio to jerk off, the first time he has ever done so in front of both a camera and another guy. However, Clayton likes to try everything at least once, and this includes a solo session at Broke Straight Boys. Clayton's girlfriend knows all about what he is going to do during his jerk off session, which is just as well as Clayton intends to use his dosh for a birthday present for her. Standing up, Clayton took off his blue t-shirt, revealing tattoos on each side of his upper chest. Taking off his jeans and boxers, Clayton turned around and flashed his ass to the camera as he admitted that people usually said that their favorite part of his body was his hair.

Sitting back down, Clayton wrapped a hand around his cock shaft and started to jerk off. His eyes closed tight, Clayton was indulging in his own private fantasy land as he worked on getting his cock hard. Following the BSB tradition, Clayton didn't take long to get rock hard, his hand sliding up and down his thick shaft. He shifted so that he was more comfortable on the futon, legs spread wide and his arm draped over the back of the futon, all the while, jerking himself off. While Clayton was obviously the 'quiet achiever' type, and somewhat shy, he certainly wasn't put off by the presences of another guy or camera in the room. As he got closer to being read to cum, Clayton decided that he wanted to stand up.

With one hand on his hip, Clayton tugged on his cock in long, leisurely strokes. In this new position, I was able to get a close up of the closely cropped hair surrounding his well formed cock, along with his lightly haired but muscular thighs. As Clayton panted quietly, it was clear that he was only moments away from presenting his cum shot. Barely a sound was uttered as Clayton came, the cum dripping between his fingers and onto the floor. I asked Clayton if it felt good, and with a huge grin, Clayton said that it did. I'm sure that we will see Clayton back in the studio in no time at all, especially as he likes to try everything once... I wonder what we can get him to do next time?