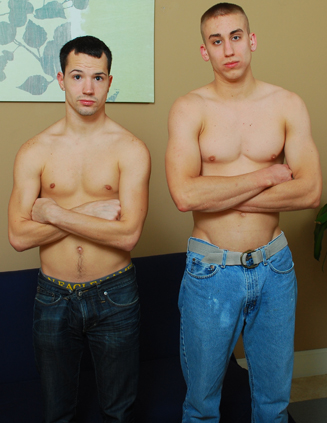 AJ is back for another round in the Broke Straight Boys studio and he is joined by someone we haven't seen in a while; Seth. Since the last time we saw Seth, he has been looking for a place to rent as his brother has recently lost his job and as for AJ, he is still looking for a job. Today, however, Seth has the enviable job of introducing AJ to anal sex. As AJ has never fucked another guy before, he is understandably nervous. The boys were anxious to get the show on the road so they stood up and took off their tops, AJ revealing a muscular toned upper body while Seth showed off a softer body. Seth and AJ stripped off the rest of their clothes, throwing them to the ground. Sitting next to each other on the futon, the boys took their cocks in hand and worked on getting themselves rock hard. Once their dicks were stiff, Seth leaned over and took AJ's big dick in his straight boy mouth. Even though it had been while since Seth had been in the studio, it was obvious that he had lost none of his oral skills as he set about showing AJ how much he liked dick. As Seth bobbed up and down, I asked AJ how it felt, AJ replying in all seriousness that it felt 'decent'. AJ might be straight but he couldn't help but watch as Seth took care of his dick, all the while, Seth jerked himself off. Soon enough, AJ showed just how much he was loving the blow job as he gently pushed down on the back of Seth's head, giving him the hint to take the dick all the down.

The boys stood up and there was little doubt that Seth's blowjob had managed to get AJ's cock the hardest it had ever been, even as Seth admitted that his jaw hurt a little from all his efforts. However, like a complete pro, Seth dropped to his knees in front of AJ and swallowed down the thick dick once more. His hips gently pistoning back and forth as he started to face fuck Seth. Breaking off for some much needed air, Seth cracked his stiff jaw before going back down for more cock. AJ, in the mean time, couldn't help but keep glancing down to watch what Seth was doing. Now, however, it was time for AJ to fuck his first guy. Sitting on the futon, AJ held his dick still as Seth, straddling AJ's lap, slowly lowered himself down onto the thick cock. As shy as he was, AJ was transfixed by the sight of his dick disappearing all the way up Seth's tight ass hole. Seth was able to set himself a slow but steady pace almost right away, lifting himself up and down on the cock even as he reached behind and gripped onto the back of the sofa in order to steady himself. By now, both boys had worked up a sweat, AJ breathing hard in pleasure as Seth rode him hard. In a surprise move, AJ slid his hands underneath Seth's ass and held him steady before thrusting up hard into the straight boy ass. While AJ has never fucked another guy before, he definitely had the moves down pat.

The boys switched it up and moved into doing it doggy style; Seth on all fours on the futon while AJ slid his dick all the way home from behind. This new position was much better for Seth as he was quickly moaning in pleasure as AJ slowly fucked his ass. Cock in hand, Seth wanked himself off while AJ worked on picking up the pace. AJ was doing such a great job, that Seth was gently moving back on each thrust so that he could get the full penetration. As he moaned and groaned in pleasure, it was clear that it wouldn't be long until Seth blew his load and sure enough, only minutes after being taken from behind, Seth announced he was ready to cum. Jerking himself off at a furious pace, Seth whispered to AJ to keep fucking him. Suddenly, Seth shot cum all over the navy blue sheet that covered the futon. Now it was AJ's turn for the money shot. Dick in hand, AJ braced himself on Seth's back as he put in some extra hard wrist action. Moments later, cum spurted onto Seth's back before it dribbled down his side and ass crack.