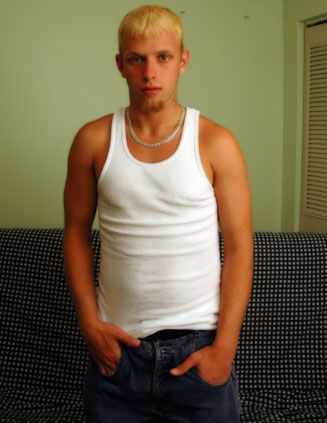 Wayne is 19, and recently left the house, because he got in an argument with his parents. He is straight, and has a couple of tattoos on his body that caught my attention. Telling him that it was only going to be a solo shoot, he was just going to whip out his dick and jerk off for us. After this if he did a good job then I would get him in some more shoots and with some girls, so of course he was done for that. Wayne stood up for us to take off his shirt and I was able to get a better view of his body. He had a smooth chest, tan skin color, and some muscle definition in his arms. Then, proceeding with the pants he had to sit down to go for his shoes. He was very nervous for the shoot, and getting undressed. Taking the underwear off he had some funky tan lines on his legs, he started to play with himself. It didn't take him long to get hard for the camera and that was a big deal for his first time on camera.

As Wayne played with himself he touched his asshole a couple of times with his lubed up hand and then would rub his chest with his other arm. He complained a little bit that it was hot but of course, we like it when a guy is a little sweaty. Wayne was a great moan and breather for his first time on camera. Switching things up he laid down on the couch and got a little more comfortable for us. I was very surprised at how much ass play I got out of him, but he did not want to talk about it or otherwise he would stop. I noticed that has he would jerk off faster he would play with his ass a little more. When I was standing over Wayne as he was jerking off for me, I got a great angle that showed that he was in pretty good shape. He had more muscle tone in his upper chest than his stomach area.

Jerking off at various speeds Wayne was getting frustrated by not being able to get off. He would concentrate for a while and seem to be right there, and then all of a sudden it would go away. He changed his mind about trying a toy and what I thought was funny was that he put it in without any lube on it. He got back hard and with the vibration I thing that he was going to be able to cum. He concentrated now on being able to finish and watching him struggle getting off was actually kind of hot. I thought to myself if I had another guy to put in the scene to have fucked him it would have made it even better. Wayne let out, "I'm going to cum!" and then he came on his lower stomach and it was a very thick load. It was one of the whitest loads that I had ever seen. He pulled out the toy and had to catch his breath again. Wayne like the vibrator and wanted to take it with him. He was covered in sweat and said that he had a lot of fun doing the shoot. I was surprised that he wanted to come back to do another shoot and when we talked about how he would make some more money he was down. Money talks with Wayne, says the he will take the deal in doing another shoot.