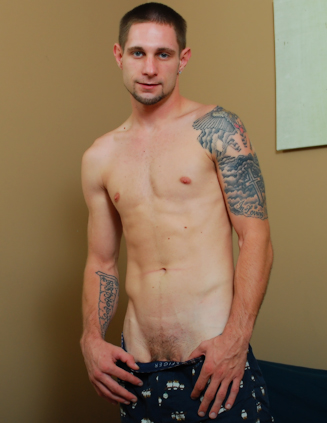 Ricky is a new Broke Straight Boy who was referred to me by his cousin, Anthony. Even though it was clear that Ricky was somewhat nervous, he was still willing to give a solo scene a go as he needed the cash. He is from a pretty small town where everyone knows everyone else but Ricky got tired of that and wanted to move away from the cold weather to somewhere warmer. As he chatted, Ricky said that he was straight... with a 'twist'. Ricky also said that his girlfriend has moved from his home town as well and that she was into watching him do all sorts of freaky things with his 9.5 inch dick. He also went on to say that because of the size of his cock, he had never fucked anyone in the ass.

It was time to get the show on the road so Ricky stood up and started stripping off, revealing a body that muscular and well defined and decorated with a couple of large tattoos. As he stood naked in front of the camera, Ricky said that, apart from his dick, his abs were his favorite body part. However, it was hard not to stare at the long dick, which Ricky had promised would only get longer. I had to go in for a close up, panning all the way down from Ricky's face to his good sized dick. Stopping there, I had Ricky start to jerk himself off. Taking his dick in one hand, Ricky started to play with his cock, even giving it a few twirls. With some lube, Ricky wasn't too nervous to show that he was more than capable of enjoying himself in front of a camera. As he slowly worked his cock, it was obvious that Ricky had a set of big, low hanging balls that he rolled in his hand every now and again.

At my request, Ricky turned around and half bent over, pushing his balls and cock back between his legs, then bent over and spread his ass cheeks. Giving himself a slap on the ass, Ricky chuckled as he showed off his ass hole. Sitting back down on the futon, he spread his legs wide and with cock in hand, Ricky started to jerk himself off in earnest. A couple of squirts of lube and Ricky decided to try out the two handed approach that Jimmy favored before slowly sliding his hand up and down his thick shaft while massaging his balls. Slapping his cock against the palm of his hand a few times, Ricky was breathing hard as he started to work up a sweat. Ricky was getting harder by the minute and there was no denying that he had one hell of a monster between his legs.

Another dollop of lube and Ricky switched it up by laying on his back and jerking himself off just a little faster. Massaging his balls even as he worked his long shaft, Ricky was enjoying himself so much, he couldn't help but whisper, 'oh yeah!' to himself as he got closer to cumming. Concentrating on just the tip of his dick, Ricky was moaning in pleasure as he chased an orgasm. He reached down and started to rub at his balls, all the while, his toes curled which were a clear indication that Ricky was having too much fun to worry about camera's and strange men in the room with him. However, concerned he was taking a little too long it get there, Ricky decided to use his own straight porn to get him over the edge and set up his cell phone to his favorite scene. With the added stimulation, it wasn't long before Ricky's hand was flying up and down his shaft. Panting from the effort of playing with his cock, Ricky glanced up at the camera and without warning, shot cum onto his stomach and abdomen.