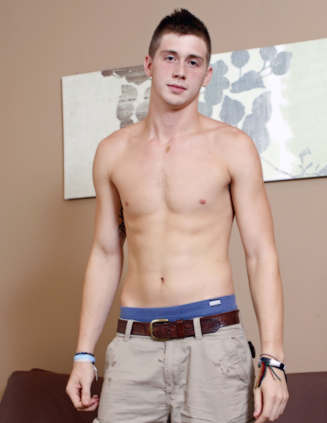 One of our new models, Cliff, has recommended that his friend Kurt come along to the Broke Straight Boys studio in order to make some extra dosh. Kurt's girlfriend has been nagging him about contributing towards her boob job even though Kurt is broke after being fired from his bar tending job for being too generous with the free drinks, thus, the reasons behind Kurt's appearance today. Like all new boys, Kurt is somewhat shy in front of the camera but has no hesitation in standing up and stripping off when asked to. Taking off his t-shirt, shorts and underwear, Kurt reveals a slim but very toned body and it's clear that he likes to keep in shape.

Already giving his dick a few tugs, Kurt did a slow twirl as he admitted that he was a naturally shy person. Sitting back down on the couch, Kurt grabbed some lube and slicked up his dick before starting to wank off as he watched some straight porn. Panting hard, Kurt was putting in some extra vigorous wrist action. As he reached for the lube bottle, there was a flash of a tattoo on the underside of his upper right arm but it was too quick to see what it actually was. Nonetheless, Kurt was rock hard in only a few minutes, obviously, the porn was to his liking.

I wanted a different angle for a close up of Kurt's nice looking dick so I had him stand up as he was jerking off. Quickly scrambling to his feet, Kurt kept his gaze glued to the porn, his hand flying up and down his shaft. I got in close and did a slow pan down Kurt's smooth body then pulled back to the other side of the room for a wide shot and this is where Kurt surprised me. Without being asked, Kurt lay down on his front on the futon and began slowly rolling his hips as if he was fucking his girlfriend. Gripping the bed sheet in both hands, Kurt went harder and faster as he got more and more turned on. Pausing only to adjust the position of his cock, Kurt was making tender love to his girlfriend via the futon.

From Kurt's heavy breathing, it was clear that he was getting close to being ready to cum, all the while, he rubbed his cock up and down the sheet. Bracing himself via one hand on the floor, Kurt rotated his hips in tight circles as he sought friction he needed to tip him over the edge. Kurt got up on his hands and knees, about to turn over but I quickly told him that I wanted a shot of his well rounded ass before he moved. I then got Kurt to reach behind himself and spread his ass cheeks for a glimpse of his virgin hole. Sitting down again, he wrapped a hand around the shaft of his cock and jerked off in earnest, however, seconds later, Kurt was down on his knees with all his attention directed towards the porn.

Without a word of warning, Kurt cupped his hand underneath his cock and quietly dribbled cum into his hand. I asked him if he had ever licked his own cum but Kurt just shook his head and said 'no' and wasn't interested in trying it out today. However, like always, the lure of more money smoothes things out so with the chance to make another $100, Kurt licked all the way up his hand, scooping the cum up with his tongue. Not quite sure what to make of the taste, Kurt licked his hand again, this time, leaving his tongue stuck out. This time, Kurt was less than impressed with the taste and spat it out before walking off to the bathroom.