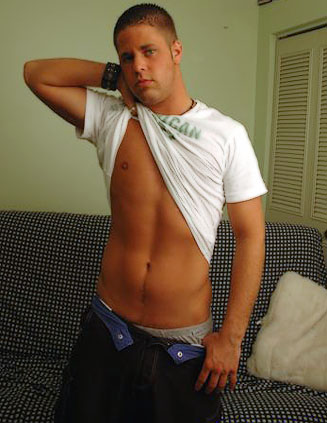 Alex is back for another shoot and he was excited to have another chance to be on Broke Straight
Boys. He is 20, and was here last time and did a shoot with Sebastian. Of course, he felt a little bitter
about the whole deal and he really just wanted to do the shoot with a girl. He came back for another
shoot and he wants the money. He was happy to do the shoot and not have to suck a cock for it.
Alex was planning on spending his money on food. Getting down to business, Alex pulled off his shirt
and right away it looked like had had been working out a little bit. Rubbing his smooth, tan stomach,
he unbuttoned his pants and proceeded to take them off.

I tried to bring up the last shoot and it was really fun, he tried to avoid the conversation. Reaching
inside his pants he played with his dick to get hard. From what I could remember he had a big dick
and we were going to get another chance to take a look at it. Putting some lube on his dick he then
handed it to me, and I didn't know what he wanted me to do with it. He played with his dick,
slapping it around and wiggling it in the camera. After a while he took off the underwear and
switched up positions.

Laying back on the couch he took off his socks and spit on his cock. His jerked off, shouting out, and
breathing hard. When the lube would wear down he would spit on his cock and keep going. Alex
would move his legs, and I think that they were becoming restless in the shoot. He kept his head
turned and didn't have to watch any porn and that was nice for a change. His eyes stayed closed and
later I learned that he was just staying in his own fantasy with two girls.

Alex's breathing was picking up, and the speed of his jerking off also increased. He let, "I'm going to
cum!" That is when a shot up cum went up past his nipples and then another one a little bit shorter
than that. Soon after the rest of the cum just dribbled out the tip of his cock. Alex was out of breath
and warn out. I asked him if he thought it was better by himself or with a really hot guy and he said
by himself for sure. Then, I told him that I could match him up with a really hot guy and he wanted a
girl. He didn't like my sense of humor, and wasn't up for my surprises. Who knows, but me what
Alex has in store for him next.