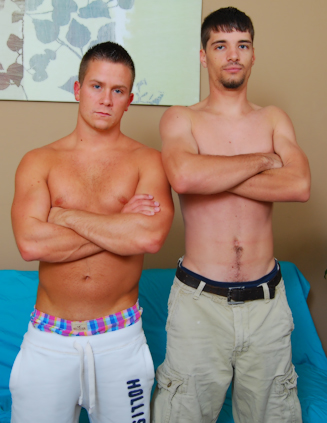 Sooner than expected, Drake is back in the studio and this time, he has Darren to show him some tips on how to get it on with another guy. Although he was just as nervous as last time, Drake stated he was looking forward to experimenting a little with another guy. Darren, on the other hand, was as cool as a cucumber but it was easy to see that he liked the idea of training up a new boy. The boys stood up and stripped off their t-shirts, throwing them to one side, along with their shorts. Clad in only their boxers, I had Drake turn around and pull down his undies, flashing his nicely formed ass to the camera. I asked Drake if he wanted to get fucked today but after laughing nervously, Drake declined but said he would consider the possibility for another day. Sitting back down on the futon, Darren and Drake went to work on getting themselves hard, rubbing at their cocks through the cotton boxers. Like the majority of boys on Broke Straight Boys, Darren and Drake were rock hard in no time at all. Still, there was always room for improvement and as such, Darren reached over and wrapped a hand around Drake's dick and started jerking him off while Drake followed suit.

Pausing only for a moment to take off their boxers, the boys continued putting in some hard wrist action. Drake had never touched another guy's dick before but he was obviously a quick study as Darren's dick was so hard, he could break rock with it. As he pumped Darren's cock, Drake couldn't help but watch as Darren's hand slid up and down his dick shaft. When it seemed Drake couldn't get any harder than he already was, it was time for Darren to teach Drake how to suck cock. Leaning over, Darren slid the hard dick into his straight boy mouth and started showing off his impressive range of skills. Right away, Drake was panting in pleasure as Darren treated his cock like his favourite candy. I asked Drake how the blow job felt and Drake responded with 'It feels fucking good!' Each time Darren went all the way down, Drake groaned for more. Drake, almost out of breath from all his heavy panting, let his hand wander over Darren's back and shoulder in a constant need to touch. As Darren's hand crept closer to Drake's hole, Drake shifted so that Darren had easier access and when I asked if it was ok for Darren to play with his ass, Drake jumped at the chance. Darren spat on Drake's hole, rubbing his fingertips over the virgin ass. If anything, Drake got even more turned on by the feel of Darren lightly circling his hole with a fingertip. When asked if he liked it, Drake wasn't too embarrassed to admit that he did. Proving to be a multi-tasker, Darren started sucking Drake off even as he fingered him. In an aggressive move, Drake started face fucking Darren, his hips pistoning up and down at a fast pace.

Drake draped his upper body across the back of the futon, Darren pushing him forward and slapping his ass. Pulling apart Drake's ass cheeks, Darren leaned in and started to gently lap the virgin ass with his tongue. Grabbing hold of his own dick, Drake tugged away even as he moaned in delight. Drake had never been rimmed before but it was obvious he was a convert to it. He was getting into it so much, Drake reached behind and grabbed hold of Darren's short hair, forcing Darren's face in even closer to his ass. With a couple of hard slaps to Drake's ass, Darren hopped up on the futon while Drake sat back down. After fisting Drake's dick for a few moments, Darren sucked on the very head of the long dick, all the while, Drake stroked Darren's upper shoulders, head and back. Up and down, up and down, Darren's head bobbed before flicking his tongue around Drake's piss slit.

As he wanked himself off, it was clear that Darren was only a few minutes away from cumming, likewise with Drake but it was just a matter of who came first. Sure enough, even with a cock in his mouth, Darren shot his load all over the sheet covered futon. Now it was Drake's turn for the money shot. Pulling off, Darren watched closely as Drake set himself a furious pace. His hand flying up and down, Drake came, cum spurting over the sheet and his hand. Drake was so pleased with the session, he had no qualms about stating that he had loved it all so watch out for him in the future, maybe Darren can get him to bottom and convert him to the cock?