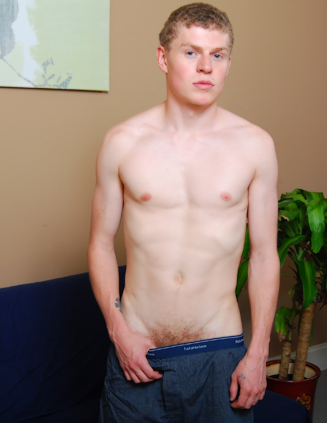 There is a new boy on the futon today; Reed. I happened to find Reed waiting at the bus stop after a shift at Walmart one day and offered him a chance to make some extra cash. As Reed doesn't have a car and his girlfriend of eight months is nagging him to get one, he was more than interested in trying it out. Still, even though he needs the money, Reed is quite nervous by what he is going to be doing. I got Reed, who has naturally curly blond hair and brown eyes, to stand up and strip down naked. As he took off his t-shirt and pants, Reed revealed a pale but very toned body before turning around and showing off his well formed ass.

Sitting back down on the futon, Reed took his cock in one hand and started wanking off as he watched some straight porn. As Reed put in some hard wrist action, his low hanging heavy balls slapped against his lightly haired thighs. I asked Reed what he was thinking about as he jerked off, Reed grinning and saying that he was thinking of fucking a bitch in the pussy. It didn't take Reed long to get rock hard as he indulged in his private fantasies. Putting his feet up on the futon, Reed gave the camera a great view of his virgin hole. As he jerked off, I asked Reed to lick a finger and although he was somewhat hesitant, Reed stuck a finger in his mouth and thoroughly wet it before reaching down and rubbing his fingertip over his ass hole. He shifted forward a little so that he had better access to his hole as he fingered himself. A couple of minutes later, Reed turned around and draped himself over the back of the futon, his legs spread wide so that he tugged down on his dick as he chased his orgasm.

Reaching behind himself, Reed spread his ass cheek so that the BSB members could see a place where no man had been before. It was a difficult position to jerk off in but Reed gently ran his finger tips up and down his thick cock. I asked him how it felt to be in that particular position but Reed didn't know what to make of it all. Suddenly, I could see Reed having second thoughts on being there so to distract him a little, I got him to stand up. With a firmer grip on his dick, Reed stroked himself faster, pre cum dribbled from the slit and onto the floor. There was so much pre cum, I couldn't help but go in with the camera for a closer look. As he got closer to cumming, I got Reed to turn to the side, showing off his long dick. By this time, Reed was panting heavily from all his hard work but admitted that, when asked, he was having fun.

Reed sat down and put his feet back up on the futon, his hand flying up and down his cock shaft. As the sweat dripped from his brow, it was obvious that Reed wasn't too far from cumming and as such, he wanked all the faster. Sure enough, only a minute or two after sitting back down, Reed shot cum all over his chest and stomach. As Reed had never tasted his own cum before, I offered him an extra $20 to try it but Reed wasn't interested, however, when I upped the offer to $50, Reed thought about it for a minute before dipping a finger into the cum pooled on his stomach. Reed dabbed a tiny amount on his tongue, immediately saying 'yuck!' I asked him if he would ever let another guy suck him off but Reed replied that he wouldn't be up for it.

I'm sure that Reed will be back in the updates very soon and lets see what this straight boy can be talked into doing with another guy!