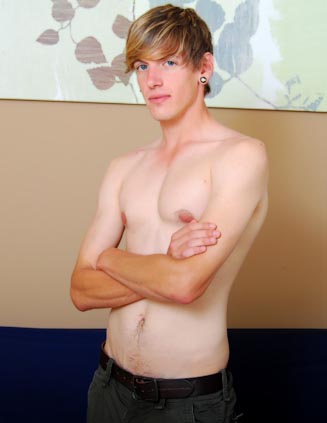 Kevin is looking to make some extra money as soon as possible as he has a needy girlfriend who is always on the lookout for a new gift. Tall and blond, Kevin is somewhat of a wild man when it comes to experimenting in bed and the craziest thing he has ever done was a four way that included himself and three other girls. He also said that he's done a few things with other guys before and wasn't adverse to trying a handjob again the future. Standing up, Kevin quickly shucked off his clothes, revealing a slim but toned body. As Kevin showed off his dick and balls, he said that his dick, when hard, was around eight inches.

Even though Kevin said the camera was making him a little nervous, he was still confident enough to give it a cheeky wink. With a hand wrapped around his long dick, Kevin slowly slid his hand up and down the shaft as he watched some straight porn. The harder he got, the faster his hand moved along his dick and it wasn't long before Kevin was rock hard. In a move reminiscent of Jimmy, Kevin grabbed his dick with both hands and gave it a few good, hard pumps. Every now and again, he would reach down and massage his balls with one hand while stroking his shaft.

Sitting down on the futon again, Kevin let his hand wander over his lean body before twisting and pinching his nipple, all the while, he kept jerking himself off. By this stage, Kevin had worked up a sweat from all his strenuous activity. A dollop of lube on his cock and Kevin gave his dick a couple of two handed pumps before massaging his balls. As he rolled his balls in his hand, Kevin rubbed a finger over his ass hole a few times, clearly getting closer to cumming as every second went by. Grabbing the lube again, Kevin worked it into his cock then, surprisingly, lifted both feet onto the futon and started fingering himself. With a firm grip on his balls, he pulled down on them even as he pushed his finger further into his ass. As he put in some serious wrist action, I asked Kevin if it felt good, Kevin replying with a nod.

Kevin thrust his fingers in and out of his ass, all the while, his hand flew up and down his cock shaft. I couldn't help but ask how many fingers he had up his ass and with a somewhat embarrassed laugh, Kevin admitted he had two fingers up there. Shifting in his seat, Kevin raised his legs up in the air again so that there was a clear shot of him fingering his own ass. With one hand, he spread his ass cheek and gave his fingers a couple of good thrusts before grabbing his cock again and wanking off. It was obvious that Kevin was pretty close to cumming as he knelt on the futon, fingers still buried deep in his ass.

Panting hard, Kevin punished his dick as he chased his orgasm, all the while, he pleasured his ass. Suddenly, as he jerked off in hard, rough strokes, Kevin's knee's gave out and he had to sit back down. A moment later, with no warning, cum spurted over Kevin's stomach and lower chest. Kevin, sweat dripping from his brow, was exhausted from all his hard work, however, since he has stated he isn't shy about experimenting with other boys, I'm sure he will be back very soon.