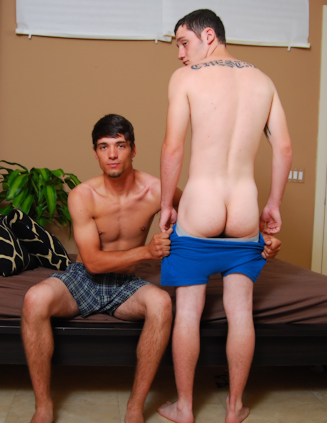 Mark is back on the bed, along with Darren. Today will be the first time Mark has ever done anything with another guy as he is straight. In fact, Mark was scheduled to appear in a shoot the week before but was unable to perform, however, he is back to try again and this time, I'm sure he will do just fine. As for Darren, although he has been fucked before, he has never done the topping until today. I asked Mark was he was more nervous about, Mark quickly replying that getting fucked for the first time was more daunting than oral.

The boys stripped off their clothes, Mark leaving his boxers on while Darren got completely naked. Hesitantly, Mark reached over and took hold of Darren's large dick and started slowly stroking him hard. For someone who had never held another guy's dick, Mark did a great job in getting Darren rock hard in almost record time. Eyes closed, Mark bent over and slid the dick into his straight boy mouth. His lips wrapped around the head of Darren's long dick, Mark bobbed up and down. Right away, Darren was moaning in pleasure from the feel of a hot wet mouth on his cock. Every now and again, Mark would pump the thick shaft, making Darren gasp. Breaking off for a moment, Mark bent down lower, licking and nuzzling Darren's balls. Mark then experimented with running his tongue stud along the slit of the stiff cock. The boys shifted around, Mark taking off his boxers before laying on his stomach on the bed while Darren stood in front of him. Mark went right back to work, sliding the thick cock in and out of his mouth. As Mark pumped the shaft, Darren said he had to confess to loving Mark's first ever blow job.

For something different, and that I knew Darren would be up for, I asked Mark if he had ever had his ass eaten out before but he just shook his head as his mouth was still stuffed with cock. Mark turned around so his ass was facing Darren, who said that he loved virgin asses. On his hands and knees, his butt cheeks spread wide by Darren's big hands, Mark wasn't too sure what to expect. Darren, kneeling behind him, leaned in close and started flicking his tongue over Mark's ass hole. Surprisingly, Mark almost instantly admitted that a wet tongue around his ass felt really good. By this stage, the normally reserved Mark was starting to pant as he enjoyed Darren's ministrations. Even Darren was getting right into the rimming, moaning as he tried to bury his tongue deep inside Mark. I asked Mark if he was ready to get fucked and in an obvious state of deep bliss, Mark loudly stated that he was.

Mark and Darren got themselves prepared, Mark still on his hands and knees with Darren standing behind him. Taking care of Mark's virgin ass, Darren slowly worked his cock deep inside. Once all the way in, Darren pushed Mark down onto his elbows and started fucking him in short, slow thrusts. As Darren gently rode his ass, he asked Mark if he liked being fucked, with Mark immediately saying that he did. Both boys were panting heavily from all their hard work, Mark crying out in both pleasure and pain. Reaching around behind himself, Mark spread his ass cheek so that he could feel the cock sliding into him more intensely. 'Give it me!' demanded Mark, a very recent convert to the cock. Darren had no choice but to comply to the bossy instructions, speeding up so that he was pounding into Mark's ass.

Not quite getting the full feel that he wanted in the doggy position, Mark flipped over onto his back, legs spread wide and in the air with Darren slamming home in one quick motion. The more turned on Mark was, the more flushed he was across his chest. As Darren rode his ass hard, Mark reached down and started jerking himself off. Darren was pounding the tight ass so fast, he accidentally slipped out but like a pro, he fisted his dick a couple of times before sliding right back in. However, only a minute later, Darren pulled out, tore off the condom and jerked off over Mark, cum dribbling over his chest and nipples. Mark wasn't far behind Darren, cum spilling over his stomach and into his pubes. Both boys did a great job, especially Mark for being fucked for the first time. Look out for them both in the updates!