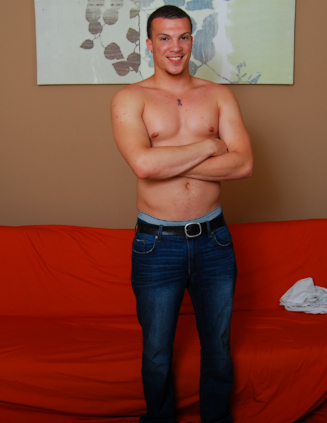 Willy, twenty one years old, is the latest good looking straight boy to appear on Broke Straight Boys, having been recommended by Jimmy. Willy, a 6 foot jock type with a 7 inch dick, has been a long time friend of Jimmy's for about 8 years. Right away, it was obvious that Willy was extremely nervous but was willing to give anything a go in order to make some extra money. Like most of the boys who come to BSB, this solo performance will be his first time jerking off in front of a camera. Today, he is needing to make some dosh to put towards a new place to live with his girlfriend and young child as their current place is too small for three.

In order to get things rolling, I had Willy stand up and strip off. As Willy took off his t-shirt, he revealed that he had a solid but fit build and as his boxers hit the floor, Willy turned around and showed off his well rounded ass to the camera. With his white ankle socks still on, Willy sat down on the futon and lubed up his dick. In slow, gentle strokes, Willy played with his cock as he watched some straight porn. Despite his earlier nervousness, it didn't take Willy to get his cock hard. Standing up, he played with his balls as he pumped his cock. As I got in for a closer look, the BSB members got a great view of the nest of tight curls surrounding Willy's long dick.

From the way Willy was panting and staring at the tv screen, it was obvious that he was really into the porn. Not sure how much longer Willy was going to last, in order to distract him a little, I got him to sit back down and show off his ass to the camera. With a foot balanced on the futon, Willy continued to jerk himself off in strong, fast strokes. Zooming in, I told Willy to smile, Willy grinning widely. Willy spread his ass cheeks as requested before raising both feet in the air and spreading his ass wider. Even though he admitted it felt awkward, Willy couldn't help but grin. Watching Willy jerk himself off, I wanted a closer look so I told him to stop for a moment and hold his cock around the base so the BSB members and myself could get a better look at his nice, long cock.

Putting in some hard wrist action, Willy kept wanking off, getting closer and closer to climaxing. Standing up again, he was panting hard and sweating from all his strenuous work. Giving his cock a few slaps against his palm, it was clear that Willy was only moments away from the money shot. Another dribble of lube and Willy's dick was slipping in and out of his fingers with ease. As his favorite position to jerk off in was sitting down, I indicated he should sit again, which Willy quickly did. Slapping himself on the belly with his cock, Willy, twisted his hand around the tip of his cock.. once.. twice.. three times before, without a sound, cum spurted into his pubes and trickled down his shaft.

Willy did a great job for his first time and with a smile like his, I'm sure he will be back in front of the camera very soon so make sure you watch out for him in the updates.