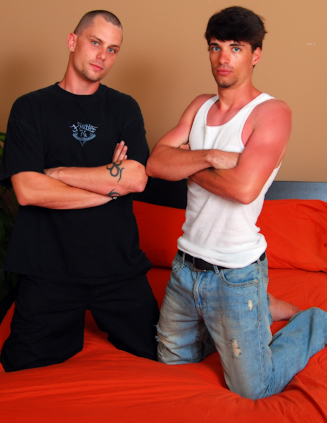 Darren is the new boy in the studio today and he is here along with Matt. Right away, the two boys were comfortable with each other and had chemistry which showed a lot of promise for a great scene. Although Darren is a straight boy, he's going to go all the way with Matt. Neither have fucked another guy before so they are both going to be doing something different today. After chatting for a few minutes about when was the last time either of them got laid, the boys got up from the bed and stripped off naked. Darren was showing off one hell of a sunburn on his entire upper body, he was so red, he was almost the same color as the sheets on the bed. Still, he had a nice slim but muscular body and a thick crop of dark hair.

Both boys lay side by side on the bed and started jerking off to some straight porn. It didn't take long for Matt to get rock hard, with Darren not too far behind him. As Matt was obviously raring to go, he stood up by the side of the bed while Darren lay on his front and swallowed down Matt's long cock. While Darren may be straight, he certainly displayed some natural skill at cock sucking as he had Matt moaning in pleasure almost immediately. Matt gave Darren's blowjob a big thumbs up even as Darren bobbed back and forth on his dick, glancing up at Matt every now and again. Matt was loving the blow job so much, he grabbed Darren's hair and started face fucking him before slapping his cock against Darren's tongue. It was clear that Darren was getting into the blow job as well, even going so far as to experiment by sucking on Matt's balls.

Matt and Darren were so into the blow job, I had to tell them it was time for Darren to take a dick for the first time. As Matt got himself ready, Darren knelt on the bed and showed off his ass hole to the camera. Darren, watching Matt roll on the condom, couldn't help but comment on how big Matt's dick was. Finally, they were both ready for the main event. Matt lay down on the bed, legs spread as he held his cock straight. Throwing one leg over Matt's lap, Darren sat down on Matt's thick cock, groaning as it slid up into him. A moment later and Darren was riding Matt's cock like a pro, moaning as he got used to the feel of a cock deep inside of him. Grabbing onto the bed head with both hands, Darren admitted that being fucked didn't feel too bad.

Darren braced himself on the bed, holding himself still so that Matt could slam his cock up into him at a fast and steady pace. From how hard Darren was moaning, it was clear that he was feeling some pleasure from being fucked. They switched it up; Darren kneeling doggy style on the bed with Matt standing on the floor directly behind him. Matt, after slapping his cock on Darren's ass a couple of times, slid his dick back in. Darren moaned each time Matt thrust in, deep and hard. Soon enough, Matt was fucking Darren's ass without mercy even as Darren groaned out that he liked it. Seconds later, Matt pulled out, ripped off the condom and jerked off over Darren's upraised ass. Both guys did a great job and I'm sure that Darren will be back in the studio to take a cock again very soon!