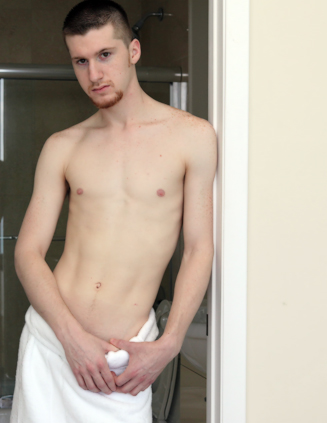 Broke Straight Boys is happy to introduce yet another straight boy desperate for money. Josh was washing windows when I approached him about participating in a documentary about unemployment and he was happy to let me film him going about his work as we chatted for a bit about how he came to be washing windows. Getting hot and sweaty, Josh took off his t-shirt, revealing a slim, toned upper body with a light dusting of freckles on his shoulders and upper back. As he continued to wash the windows, I offered him $50 to whip out his dick for the camera, however, after asking me if I was a pervert, Josh pulled down his shorts and showed off his cock for an easy $100.

I then told him I would give him another $100 if he jerked off on camera, Josh agreeing almost instantly. As he was feeling sticky from all his work, Josh headed to the bathroom and quickly stripped off before hopping into the shower. As wary as Josh had naturally been when I first asked him to display his dick, it looked as if he was even a bit of an exhibitionist as he leisurely showered in front of the camera. Josh certainly wasn't shy about being filmed as he ran his hands over his smooth chest and taut stomach. As I got in a long sweep of his body, it was obvious that Josh was a natural gingernut as his hair matched his pubes. Once out of the shower, Josh quickly dried himself off and walked back out into the main bedroom of the hotel suite.

Hopping up onto the bed, Josh sat up against the pillows with his legs spread wide. Grasping his cock in one hand, he started to slowly jerk himself off. As he wanked off, I asked if he had ever had another guy suck his dick, Josh replying that he'd never had it done and that he would want a lot more money to do it. It didn't take long for Josh to get rock hard as he ran his hand up and down his thigh in pleasure. Sitting up on his knees, Josh was breathing heavily as he put in some hard wrist action. I told him to show the camera his ass hole, Josh immediately turning over onto his side so that his ass faced the camera. With one hand, Josh lifted his butt cheek so there was a good view of his hole.

Upon being asked, without a quibble, Josh licked a finger and rubbed it along his hole, admitting that his girlfriend had never done it to him before. He also said that he had never been fingered and wanted another $200 to even attempt it but settled on $150. I gave him the extra cash straight away so Josh rolled onto his back and widened his legs. He sucked on a finger for a few moments to get it really wet before sliding it in. Throwing his legs up in the air, Josh pumped the finger in and out, gasping in unexpected pleasure even as he jerked himself off. As he lowered his legs, Josh admitted that it felt good to have a finger up inside of him. It was clear that Josh was getting really turned on by what he was doing so I told him to try two fingers.

After a moment of doubt, Josh licked two long fingers and pushed them into his ass hole. This time, his face was tense and Josh said it hurt so he slid one back out. Right away, it was obvious that all he needed was to feel just the one finger deep inside of him to get him on the way to cumming. As Josh slid his finger in and out, he came, cum spurting over his chest and stomach. Panting heavily, Josh, at my suggestion, tasted at least three dollops of his own cum. For a straight boy, Josh was willing to do things he had never done before and I'm sure he will be back in front of the camera very soon so look out for him in the updates!