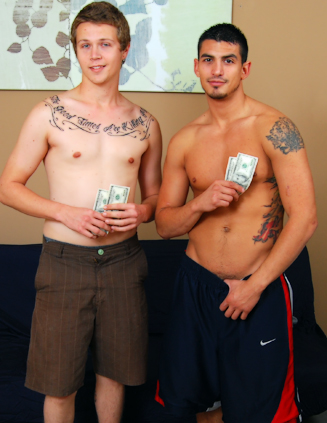 Today, Vinnie has come into the studio to shoot some straight porn, however, as we talked about his experience with girls, I told him to get naked. Vinnie was happy to show off his muscular, tattooed body, saying he had found out about Broke Straight Boys via an advert on Craig's List. Flexing his muscles, Vinnie turned around and showed off his ass to the camera. Vinnie sat back down on the futon and I told him to get his dick hard as he watched some straight porn. Watching the porn, it didn't take Vinnie too long for him to get hard so I got him to stand up and show off how long his cock was. As he was slowly stroking his dick, there was a knock at the door and in came Zach, another model.

Sitting down on the futon, Zach was also at the studio to do some straight porn, however, I got him to strip down naked, Zach revealing a toned twink body with a tattoo that curved along his chest from shoulder to shoulder. As I chatted with Zach, Vinnie sat quietly and kept jerking off. Completely naked, Zach turned around and showed off his tight ass cheeks to the camera before sitting down. Vinnie asked where the girls were, upon which I replied that today was just an audition for them both. Vinnie immediately said that he was really broke so I told him that I would pay them both if they would sit next to each other and just jerk off and while they were quite surprised by the offer, Jimmy and Zach both agreed to do it. I then told them I would give them more money if they gave each other a handjob. They were stunned but Vinnie asked how much and I told him another $125 each. With a shrug, Vinnie reached over and took hold of Zach's dick, while Zach did the same for Vinnie. As they put in some hard wrist action, Vinnie admitted that the handjob wasn't too bad, Zach just nodding in agreement. A few minutes into the dual handjob, I asked Vinnie if he wanted to suck Zach's dick for an extra $150 but Vinnie wasn't down for it so I asked Zach if he would give it a try. After some brief consideration, Zach indicated that he was going to give it a try by leaning right over and taking Vinnie's thick cock into his straight boy virgin mouth.

Almost right away, Vinnie was panting from the feel of a hot, wet mouth surrounding his cock, even as he continued to jerk Zach off. As Zach slowly slid the hard cock in and out of his mouth, he fisted the shaft before rolling the heavy balls in his hand. Vinnie, upon being told to treat Zach as he would a girl, grabbed hold of Zach's hair and pushed his head down, forcing Zach down on his dick. As he bobbed up and down over the thick cock, Zach didn't seem to mind in the slightest as Vinnie started to dominate him, instead, Zach twisted his hand around the shaft of the dick while he sucked on just the head. Changing things around, Vinnie stood up, Zach on his knees in front of him and immediately swallowing Vinnie's dick again. Vinnie, with his hands on the back of Zach's head, encouraged Zach to deep throat his cock. Both boys were getting really into the blowjob; Vinnie panting and moaning for more while Zach experimented by licking up and down the thick shaft.

Zach was even able to handle Vinnie face fucking him with only a choke or two. Catching his breathe for a second, Zach went right back to work on Vinnie's cock, Vinnie whispering that he was about to cum. I told them to sit back down as I didn't want Vinnie to cum just yet. Zach leaned back over and slid Vinnie's dick into his mouth again even as he jerked himself off and surprisingly, he was the first one to climax, cum spilling over thigh and into his pubes. As Vinnie still had to cum, he stood up and Zach got down on his knees, putting in some hard work in order to make Vinnie cum. Zach bobbed up and down on the thick cock and before long, Vinnie muttered that he was about to cum so Zach stuck out his tongue. Vinnie grabbed his cock and only a few tugs later, cum dribbled down onto Zach's tongue and cascaded along his chin. Zach must have liked the taste of cock so much, he even cleaned off Vinnie's dick! Vinnie and Zach both did a great job at an extra hot oral scene so look out for them in the updates!