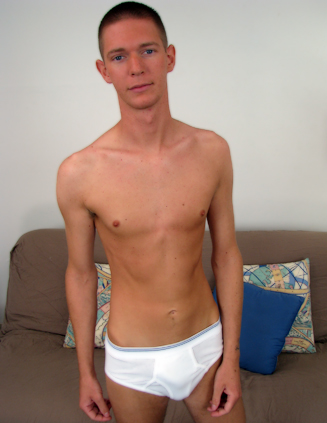 Broke Straight Boys is pleased to welcome another straight boy to the futon; Derek Chambers. He is a local to Miami and is studying Oceanography and Marine Science at college. Derek is broke from buying all his text books for college, thus, why he is in the studio to do his solo scene. Although he identifies himself as being straight, Derek did confess to being quite curious about man on man interaction and had even started jerking off to fantasies involving the swim team in the locker room. Derek stood up to his full height of 6' 1" and took off his shirt, revealing slim but toned upper body that complimented his tanned surfer boy look. Although he had closely cropped hair, Derek said his natural hair colour was strawberry blonde, weighed around 150 pounds and that he wore a size 12 shoe. Sitting back down on the futon, Derek put his hand down the front of his tight white underpants and started playing with his dick as he watched the bisexual porn playing on the tv. Derek stood up and took off his undies, turning around and showing off his nicely formed ass for the benefit of the BSB members.

He slouched on the futon, not at all shy as he stroked his dick into full hardness. Derek gently wanked off and I couldn't help but compliment him on how nice his cock looked. As he continued playing with his dick, Derek admitted that although he was curious about guys, he hadn't actually done anything with another guy, however, he was willing to experiment. I asked him a few more questions and was surprised when he said that kissing another guy would probably be a turn on for him. Reaching for the lube, Derek put a small dollop onto his cock head and resumed jerking off. He was in no hurry to cum, instead, he seemed intent on just enjoying his first time on camera.

Standing up, Derek wanked off at a slow but steady pace as he watched the porn. With one hand lightly caressing his shoulder, Derek started to jerk off a little faster, obviously getting close to cumming. Suddenly, he sat back down on the futon and moments later, a stream of cum spilled over his cock head and onto his flat, tanned stomach as he panted hard with the effort. For a first timer, Derek did a great job and with his willingness to experiment with other guys, I'm sure that he will be featured in the updates very soon.