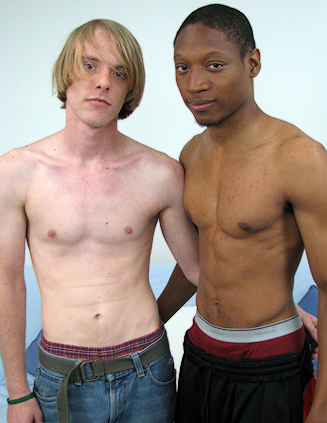 Today at Broke Straight Boys, we welcome back Jamal and Corey. Both boys are in the studio to earn some quick cash so that they can put it towards fixing their respective vehicles. In order to mix things up a bit, I got Corey and Jamal to stand up and then told Corey to help undress Jamal. Corey stripped off Jamal's top and shorts, leaving his underwear on before Jamal helped out Corey, also leaving on Corey's boxers.

I told Corey to take off Jamal's boxers and almost instantly, I could see that Corey liked what he saw, Corey nodding when I asked him. Jamal helped Corey take off his boxers and the next moment, Corey slid to his knees in front of Jamal and swallowed down the semi hard cock like a pro. One hand on the back of Corey's head, Jamal looked like he was in heaven from the feeling of a hot and wet mouth around his cock while Corey slowly slid the cock in and out of his mouth. They sat back down on the futon, Jamal leaning over and taking Corey's dick into his straight boy mouth. With one hand wrapped tightly around the base of Corey's hardening cock, Jamal bobbed up and down as he got used to the feel of a cock in his mouth once more.

Jamal soon had Corey moaning like a bitch as he worked on the hard cock, all the while, Corey was jerking him off. He was doing such a great job of giving head, that Corey joked that Jamal couldn't be straight. Every now and again, Corey would push down on Jamal's head, hinting for him to go deeper. Switching it up, Corey knelt up on the futon while Jamal stayed as he was, leaning into Corey and sucking cock once more. Jamal's skills at giving head made Corey groan and gasp all the more. However, all too soon, Corey was too close to climaxing for Jamal to continue so, side by side, the boys sat on the futon and wanked off to some straight porn.

Moments later, Corey, with barely a word, shot all over his chest even as Jamal couldn't but sneak a peek at him. I told Corey to help out Jamal so Corey reached over, and with a dollop of lube, wrapped a tight hand around the shaft of Jamal's cock, wanking him slowly until Jamal was rock hard. As Corey jerked him off a little faster, you could see that Jamal was close to cumming and as such, Jamal took control of his cock again, stroking himself until he whispered he was about to cum. Unable to help himself, Corey reached out and got a good grip on Jamal's cock, holding onto the thick shaft as Jamal sprayed what had to be a week's worth of cum all over his chest, stomach and pubes. From the way Corey smiled as Jamal shot his load, it was obvious that Corey wanted to have a go on the big cock so I asked him if he could handle Jamal's cock, Corey saying that he would give it a try.

Both boys did a great job and next time, we will see if Corey is able to take Jamal's monster in his stride.