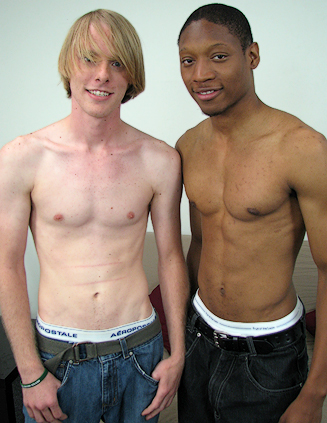 Today, Corey is going to prove that he can take Jamal's huge cock like a man... and love it! Right from the start of the shoot, Jamal and Corey had an easy camaraderie between them which was allowing Jamal to relax more than in his previous shoots. Just to remind the Broke Straight Boys members, Corey is bisexual and Jamal is straight. However, today, Jamal is going to be fucking his first guy; Corey. As Jamal, Corey and myself were chatting, the conversation veered into the myth that black men have huge cocks, Jamal admitted that from what he had personally seen, there was some truth behind the myth. Finally, as the conversation wrapped up, Jamal and Corey said that they were happy with $800 each for today's scene.

As the boys stood up, I suggested that they could do something a little different such as undress each other. Jamal thought it was a great idea and immediately helped Corey take off his t-shirt before Corey returned the favour. Their pants soon followed and sitting back down on the futon, they played with their cocks as they watched some bi porn. After a few minutes, Jamal and Corey threw their underwear to one side, Jamal leaning over and sucking down Corey's dick. It was obvious that Jamal had picked up a good set of skills from working at BSB as Corey was rock hard in only a matter of seconds. Corey was pretty eager to wrap his lips around Jamal's dick so Jamal sat back and let Corey work his magic. His head bobbing up and down, Corey slid Jamal's cock in and out of his hot, wet mouth. Deep throating the large dick every now and again, Corey looked like he loved the feel of a dick in his mouth. Shifting so that he was kneeling next to Jamal on the futon, Corey went right back to work on the long shaft.

Before long, the boys opened up the futon, both laying down next to each other and stroking their rock hard cocks. I asked Corey to measure how big Jamal's cock was so that the BSB members could find out just how big Jamal really was. The answer wasn't surprising; Jamal's dick was 8.5 inches long and Corey looked pretty happy with that. As Jamal got himself prepared, Corey admitted that he had been lubed up and ready to go before the shoot had even started. Corey got on his hands and knees and with Jamal kneeling behind him, Corey moaned as Jamal slowly slid his huge cock into his tight ass. As excited as Corey had been to have Jamal fuck him, it was clear that Jamal's size was causing a bit of discomfort, Corey groaning on each thrust.

Taking it slowly at first, Jamal was soon able to pound Corey's ass, making Corey moan in both pleasure and pain. Flipping Corey over onto his back, Jamal slid right back in. In the new position, Corey was moaning in pure pleasure as Jamal fucked him, even as Corey jerked himself off. Corey was getting so into the fucking, he couldn't help but try and take a look at Jamal's cock thrusting into him. It was clear that Jamal was enjoying the feel of a tight ass around his cock as he watched himself sliding in and out of Corey's ass, all the while, both boys were panting for more. As he pounded Corey's ass, Jamal announced he was about to cum so he pulled out, tore the condom off and instantly splashed cum over Corey's cock and into his pubes. Only a moment later, Corey put in some hard wrist action, cum shooting over his chest and stomach before dribbling down his shaft.

Both boys did a great job, especially Corey for taking such a huge cock. As Jamal said he would consider bottoming if the dick was the right size, make sure to look out for them both in the updates.