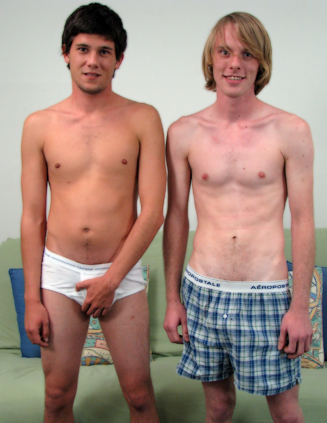 Broke Straight Boys is very pleased to have back Corey and John. While both boys have been on the futon before, they haven't worked together so it's time to change that. Last time the boys were at BSB, they both made some decent money, however, John lost his due to a minor offence and jail time while Corey bought himself a car. As they haven't worked together before and John is still a little apprehensive about the whole 'gay for pay' thing as he is completely straight while Corey is bisexual, I told them that they would just be doing oral as they have both done it before.

As we chatted, they quickly decided that $600 was a fair price and with that, they stood up and stripped right off, John continuing to tug on his cock. With the porn playing, the boys sat down and played with their dicks, John saying that he would go first at sucking cock. With barely any hesitation, John leaned over and sucked Corey's cock into his straight boy mouth. John wrapped a tight hand around the base of Corey's dick, sucking hard on the just head of the hardening cock. As John got used to another guy's cock in his mouth, he started to experiment a little with how to give a blow job.

I told John to tighten his lips around the head and as he did, John gagged but immediately went back to doing as he was told, wringing a moan out of Corey. There was obviously some pre-cum from the hardening cock in his mouth and it was making John queasy so he spit it out into a cup but went right back to work. Spitting out the pre cum again, John asked if he was doing ok and I had to hand it to him, at least he was trying his best. I told him he could use his hand on Corey and with quite a bit of relief, he started jerking Corey off. After a few minutes, John decided to try again at giving Corey a blowjob so Corey sat on the back of the futon while John knelt beside him and swallowed down Corey's dick. This time, John used his hand to pump the hard shaft as he sucked on the head. Despite John's issues with blowjobs, Corey was obviously loving the attention as he was as hard as a rock and moaning for more.

They swapped; John sitting down in obvious relief as Corey knelt on the floor in front of him and went to work on John's soft cock. John got a little aggressive with Corey, twisting his fingers through Corey's hair and forcing him down on his cock, all the while, Corey was furiously tugging on his own cock. Grabbing Corey's head with both hands, John made Corey to keep sucking on his cock. As Corey's head bobbed up and down, John jacked off into his hot, wet mouth, causing John to groan in pleasure. Licking John's balls for a few moments, Corey went right back to sucking cock, going deep as John once again took control of the situation.

Soon enough, it was clear that John was about ready to burst so Corey hopped up on the futon beside him, both boys jerking themselves off as Corey admitted that John had a nice cock. As Corey sat beside John and watched him jacking off intently, I told John that I would pay them an extra $100 if he came over Corey. Surprisingly, Corey was the one who came first, quietly shooting all over his chest and stomach as he closely watched John putting in some hard wrist action. As John was just about ready to shoot, he gestured for Corey to get down close to his cock so that he could give him a facial. With Corey's face right in the line of fire, John spurted over Corey's nose and into his hair. I suggested that, for an extra $100, Corey should lick up all the cum and without hesitation, Corey slowly licked up the cum pooling in John's pubes and on his cock head. Both guys gave a valiant effort, particularly John. I'm sure they will be back in the updates so keep an eye out for them in the future.