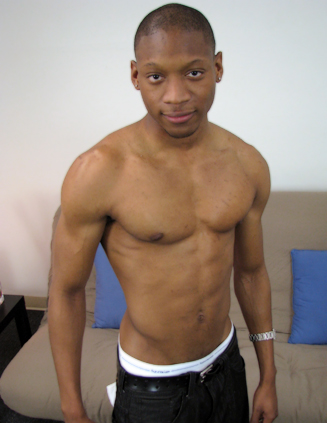 At the Broke Straight Boys studio today, we have Jamal, a newcomer to the futon. Right away, Jamal, an African American with cropped hair, said that he was excited to be at BSB and was looking forward to showing what he had for the BSB members. Jamal explained that he was from Mississippi and is completely broke but needs money to buy a car, hence, coming to the BSB studio. I explained to Jamal that today, he would just being doing his solo shoot and depending on how that goes, he would then be appearing alongside other models in future videos.

I asked him if he jerked off at home and was surprised when he confessed that he jerked off up to 5 times a day! Jamal stood up, stripping off to his underwear and revealing a muscular and compact body that suited his 5' 10" frame, Jamal saying that he worked out at least 3 times a week. I got him to turn around and pull down his loose fitting boxers, Jamal laughing as he shook his well rounded ass for the BSB members. Throwing his underwear to one side, Jamal sat back down. Putting on the porn, I told Jamal to just do his thing and tell me when he was about to cum.

With his legs spread wide, Jamal grabbed his cut dick and started slowly jerking himself off. Even though the porn was playing, it was clear that being in a room with other guys and having a camera trained on him was somewhat distracting so Jamal closed his eyes and went off to his own private fantasy land, all the while, stroking his dick at a steady pace. As he kept wanking off, Jamal stood up with one foot on the futon, his dick slowly getting harder. Soon enough, as he sat back down, Jamal showed that he had a pretty big cock in both length and width, Jamal slapping his dick against his hand a few times before jerking off again. It soon became clear that either Jamal was having trouble finding a position he liked or he just preferred to move around a lot as he kept shifting from sitting down to standing up every few minutes.

Eventually, he found his rhythm and worked his cock hard, sliding it in and out of his fist as he panted heavily, eyes still screwed shut in pure concentration. Suddenly, Jamal warned he was about come and sure enough, great spurts of cum shot all over the floor, Jamal slapping his cock against his hand. Jamal stood up again, giving the camera a better view of his huge dick even as he gave his cock a couple more slaps. Look out for Jamal in the future as I know we haven't seen the last of this newest Broke Straight Boy!