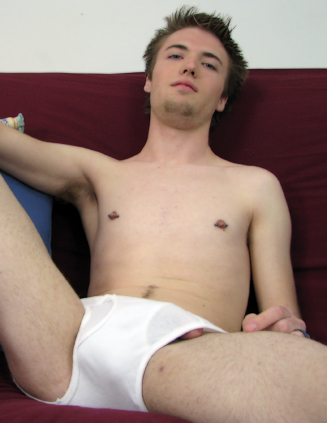 Daniel is the newest broke boy to sit upon the Broke Straight Boys futon. He is here at the studio today to film his solo shoot as he is in desperate need of cash due to being let go from his job at a diner. Daniel had been approached by a BSB recruiter while at a bar one night and with the bills piling up, he decided he had nothing to lose. Although he is bi-sexual, this 19 year old broke boy has only, so far, done oral with another guy as he does prefer girls but is open to pushing his boundaries.

I got him to stand up, Daniel telling me that he is exactly 6 foot tall and weighs 145 pounds while his shoe size is 11. He also said that he lives in Ohio, hence, his milk white complexion that complimented his blue eyes and light brown hair. Daniel took off his t-shirt, revealing his pale but toned upper body with pierced nipples. Even though he was tall, Daniel was quite slender, presenting more like a twink as he took off his shorts and foot wear. Sitting back down on the futon in his undies and with the bi porn playing, Daniel started playing with his dick. I got him to stand up again as I could see that he was already hard from only a bare minute of playing with himself. I couldn't help but touch the thick shaft, pulling down his undies so that the BSB members, and myself, could get a better look up close. Daniel turned around and pulled his underwear down, flashing a well rounded ass to the camera.

Sitting back down on the futon, Daniel spread his legs out wide and started slowly pulling at his dick. Daniel was giving his cock a real work out, pumping the shaft hard a few times before rubbing at his cock head then back to pumping the shaft again; it was a rhythm that was obviously working for him as his breathing was deep and heavy. From how he was sitting on the futon, Daniel was giving the BSB members a great view of his tight ball sac and lightly haired thighs, especially when his balls bounced up and down each time he pumped his cock. He lay right down on the futon, one arm behind his head as he started to thrust his cock up into his fist. Every now and again, Daniel would moan as he tweaked his pierced nipples. Sitting back up, he kept glancing at the bi porn even as he jerked on his cock in fast and hard strokes.

He broke off for a moment to run a fingertip along the slit in his cock head before grasping his shaft in a tight fist and jerking himself off once more, all the while, breathing heavily. Soon enough, Daniel indicated that he was close to cumming. A few more tugs on his cock and Daniel shot over his chest and stomach, cum dribbling down his shaft and into his pubes. Daniel did a great job today and with his relaxed, open minded attitude, I know that we will be seeing more of Daniel in the future.