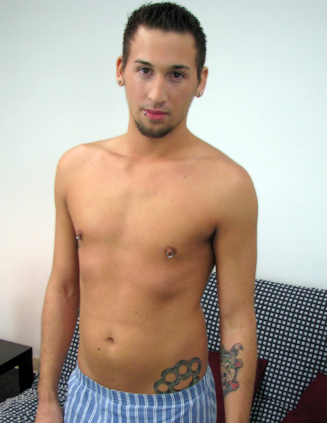 Today, at Broke Straight Boys, we are glad to introduce Adrian, our latest broke boy. Adrian is from Portland and due to having over a $1000 of court fees, he is in desperate need of some quick money. Thankfully, a friend told him to contact BSB and now, here he is, on our studio futon. Adrian is straight and currently single although, he is seeing a girl who thinks they are exclusively dating. I explained to Adrian just what BSB was and that he would have to keep an open mind due to what goes on in the studios but from Adrian's demeanour, it didn't look like he was going to have any problems.

I got him to stand up and start stripping off for the camera, Adrian telling me that he was 6'1" and weighed 180 pounds. He revealed a tanned, toned body that was decorated with a few tattoos and nipple piercings. Adrian had short dark hair, brown eyes, goatee and a lip piercing. Taking off his shoes and socks, he revealed he had size 12 feet and a 7 inch cut dick. He sat back down on the futon, still in his boxers and already rubbing at his dick even as I put the straight porn in to play. Only a minute later, he stood up and took off his boxers, flashing his well rounded ass to the camera so the BSB members could get a closer look.

Sitting back down, Adrian watched the porn and stroked himself into a hard on, pausing only to put a dollop of lube on his cock. Adrian worked hard; switching from hand to hand, twisting his hand round to new positions, running a hand up and down his thigh and over his chest, his cock head bright red from the strenuous exercise. Shifting positions on the futon and leaning back into the cushions, it was clear that Adrian was on the verge of coming. Without a word, and while playing with his balls, Adrian climaxed, cum shooting onto his stomach and into his pubes, before it dribbled down his cock head and shaft.

Adrian was relaxed and relieved to have gotten off and said that he would be glad to come back to the BSB studios so look out for him in the updates as we haven't seen the last of Adrian.