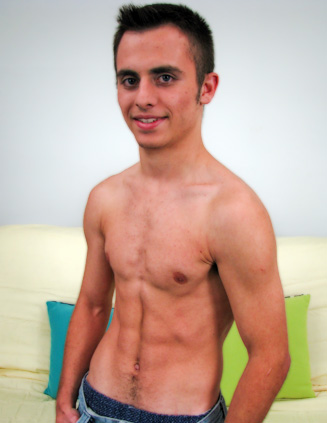 Today at Broke Straight Boys, we welcome a new model; Mark Curtis. Mark is 19 years old, has short dark hair and eyes with a swarthy complexion. He has come in to do his solo jerk off scene and although he is nervous, Mark has said he is also excited about the shoot and is happy to be 'gay for pay' for the benefit of the BSB members. Right away, I could see that Mark had a good personality and was fairly comfortable with the camera, so I was pretty sure that we were going to have a really hot shoot. Mark told me he had a girlfriend and that he wants to propose to her, which is why he needs some fast money but unfortunately, he also had a car accident on the way home from the hospital where he works as a nurse and needs money for lawyer bills.

As Mark got undressed, I saw that although he was one of our shorter models, standing five foot 4 inches and weighing 125 pounds, he was in very good shape with a nice firm ass and a toned body. The most interesting thing was that Mark's cock was uncut, something we don't see a lot of here at BSB. I told Mark that if he came back to BSB, he would have to do a shoot with another guy in order to make more money, something that Mark didn't seem to mind all that much. I also indicated that with his nursing skills, we could always use him over at College Boy Physicals.

With the porn playing, Mark started to jerk himself off, wiggling his feet in front of the camera so we could all get a better look at his size 9's. Tugging furiously at his cock, his ballsack flying up and down, Mark proved he was a grower and not a shower when he was hard as a rock only a few minutes into it. Mark shifted on the futon, spreading his legs wider as he kept running his hand across his chest, playing with his nipples before touching his asshole every now and again. He paused for a moment to squeeze some lube onto his long, thick hard cock. Mark then surprised me; he lubed up his ass and started fingering himself! These straight boys, you never know what they are gonna do next!

Leaning back on the futon, legs spread wide, Mark stroked his cock as he slid his finger in and out. Never having done this before, he admitted it was slightly uncomfortable. Still, it's nice to see models break out of their comfort zone. Only a few minutes later, Mark was ready to come. Breathing hard, his cum spurted high in the air before splattering over his stomach. Mark promised that he would be coming back to BSB and was enthusiastic about the next shoot being oral. I'm really looking forward to Mark coming back to BSB, he looks like he's going to be a great all rounder.