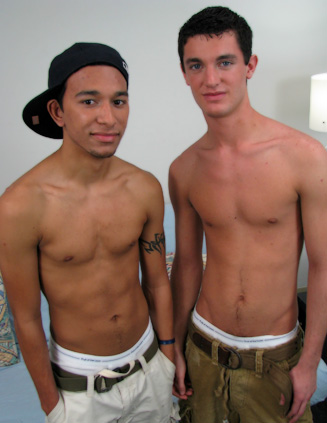 BSB244-Donovan & Brenden-Duo Solo

I'm pleased to announce that we have something a little different here at Broke Straight Boys; Donovan, our first deaf model. In his application, this straight boy stated he was profoundly deaf, 100% hearing affected. Broke Straight Boys had never had a deaf applicant before but after an online chat with Donovan, I knew I had to get him into the studio; the members would love him. Donovan wants to make enough money to be able to visit his Mom in Germany as he hadn't seen her in a few years and really misses her. On the day of his solo shoot, Donovan got a friend to drive him to the studio whom I invited into the studio as well. Both guys were extremely attractive; Donovan was an 18 year old twink hottie with light chocolate smooth skin, dark eyes and a tribal tattoo circling his left upper arm. His friend, Brendan, was 19 years old and tall with dark hair, blue eyes and a slim body.

Despite Donovan being able to lip read, I had Brendan write down my queries so that there would be no confusion as to how the scene would go. Brendan confirmed that both he and Donovan were straight so I decided to try my luck with getting a dual jerk off scene. Brendan was very unsure of the offer of $200 to stay with his friend and jerk off together so I instantly upped it to $300, to which he quickly agreed and surprisingly, so did Donovan. That was too easy; straight boys are *never* that agreeable, that fast, there was something else going on here? I got the boys to stand up and take off their tops for the camera, Brendan admitting that he wasn't wearing any underwear. The boys then took off the rest of their clothes, Donovan leaving his white underpants on and despite me asking, he refused to take his black cap off. Both boys had great bodies; Donovan having a defined set of abs while Brendan was taller and slender with a lovely smooth body.

I told them to go ahead and start getting hard; Brendan's cock was long, thick and hard from the moment his hand touched his prick while Donovan had a smaller dick that promised to harden into a real beauty. Donovan was one of the more visual boys we've had here at BSB; his gaze drawn to any small movement around the room during the whole scene which was interesting to see. What was most intriguing about this shoot was the fact Donovan and Brendan kept their knees pressed together quite tightly throughout most of the shoot, where as most guys like distance between them. It wasn't long before Donovan was hard as well, with both guys having cocks to be proud of. Brendan showed how much he liked the porn by playing with his nipple for a few minutes, pinching and squeezing the sensitive flesh before moving his hand down to play with his balls. I was sure that he was playing a little with his hole at the same time; maybe this boy isn't so straight after all?

All the while, Donovan was keeping up a steady pace of his own, his heavy breathing being broken every now and again by a sharp little gasp. I could see that the boys were getting close, Brandon was touching himself more now, with Donovan also moving a hand to play with his own balls. A quiet word from Brandon that he was ready to cum and he jerked off fast, cum splattering over his stomach and hand. Meanwhile, Donovan was rapidly approaching his own climax and with a quick nod from him, he came in a long white stripe from his bellybutton to his groin, the cum pooling in his pubes. Both guys were exhausted but happy to have gotten off and excited about the $300 each. As the boys left, I made a decision that I would have to invite them both back to BSB for another shoot, if only to find out what was really going on between them. With how comfortable they were together, hopefully there will be an oral shoot coming up very soon.