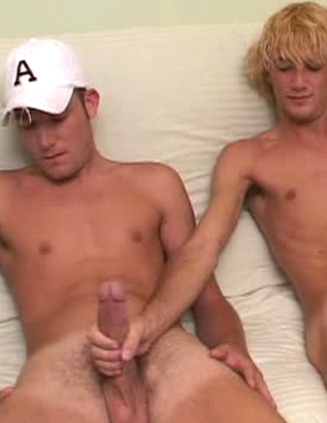 Drew, 22, and from Tennessee called me up and was interested in doing some modeling work for us.
I had him come down for some work, and he ended up doing some other shoots and then went to do
some site seeing. He called me and wanted to do another shoot before he went home. Drew really
wanted to fuck a girl, before he went home to top off is vacation.

Well, I couldn't get Drew a girl to fuck, but I was able to get Jarrett Fox to come in on such short
notice. Drew wasn't so happy that I didn't get a girl, but I told him he could make a nice size check
for the work that he was about to do. In going over how much he wanted to jerk off next to a guy for
the first time, we finally settled on a price. Both guys stripped off their clothes and started to play
with themselves to get hard. Drew has a much more A&F look to his body, where as Jarrett has a
much thinner build to him. Both guys are in great shape and very tan. In just a short time both guys
had rock hard penises.

Offering Drew $200 more to let Jarrett jerk him off, Drew was happy to sit back and let Jarrett do all
the work. Drew closed his eyes and seemed to be in his own world. That is when I told Jarrett to go
ahead and suck it. Bending over Jarrett put that huge, monster of a cock in his mouth, and ran his
mouth over it. Drew was enjoying it and even bit his lips a couple of times. Then, I had him return
the favor to Jarrett. He wanted more money of course, but he went for it.

Drew turned his hat around backwards and went to town on Jarrett's cock. Putting most of it in his
mouth, I was very shocked at how well he could do that. He said that it was from sucking all those
tits. Running his tongue over the tip of Jarrett's cock the two of them looked like they were in the
moment. Drew sat back and the two started to jerk off again.

Standing up next to one another I put a spray paint can up next to each of them just to show how big
they both are. I got in underneath them and they were facing each other. Drew had never heard of
docking before, so of course we had to show him. Jarrett moved in close and began to jerk them
both off. After a while Drew took over and it looked really hot. Jarrett turned around with his ass
right there, and Drew started to rub his cock all over it. However, Jarrett was not interested in
letting Drew fuck him.

Drew really seemed to get into the hand jobs, so I had him lay down on the couch and Jarrett would
jerk him off then for a while. Before I know it they were jerking each other off and both were
breathing very deep. All of a sudden Jarrett let out his breath and his hot steamy load dropped all
over Drew's stomach and filled his belly button. With in seconds Drew shot his load as well on his
stomach. Of course, I wanted Jarrett to cum on Drew, but Drew didn't need to know that. It's ok, he
had a good time. After all of that, they were going to go use their money to pay the bills and party.
Drew seems to have no interest in trying another shoot. We will have to see if my phone rings again.