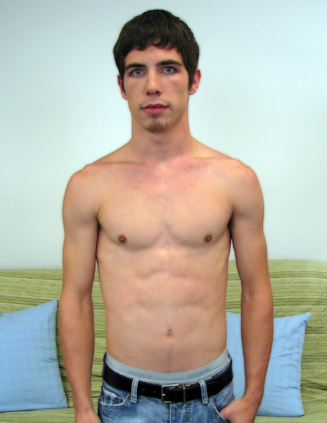 Sitting on the couch ready to begin his casting solo was Andrew, who goes by Andy. His nerves were showing a little bit as he prepared for me to turn the camera on. I told him to relax that things would be fine, and we would take things one step at a time. Turning the camera on, we started out with an introduction to get to know Andy, and who he was. He talked about how he is 20 years old, lives in Texas, is very straight, and has a girlfriend right now. Come to find out his girlfriend was the one that sent him to try this out. She wanted him to bring in the money, and her motivation was getting a new purse. That's when I explained that he was only going to make $200 for doing the shoot, but if he comes back to do more shoots he could make more depending on what he was willing to do. Andy brought up getting to star on Broke Straight Girls, and I told him that we would just have to see. I needed to see how well he would do in front of the camera, if he could get hard, and cum in front of another guy before we could start making future plans.
I had Andy stand for me and asked about his general stats. He said that he is 5'7" which to him was short, but that happens to be average. Wears 9 inch shoes, has a size 29 waist, and his dick is cut. Just because he had a striking resemblance to a celebrity, I had Andy take off his pants, leaving him standing there in his shirt and briefs. He wanted to know if I wanted him to run and slide across the floor, giving a short little demonstration. Taking off his shirt next, he revealed a very nice set of abs and lean body under his button down shirt. I asked if he did any working out and he told me no. Just naturally was given his nice body, and only has to walk to maintain himself. Spinning around to show his backside, I noticed that he had a tattoo in the middle part of his upper back. I had him pull down his underwear so that we could get a sneak peak of his butt. Sure enough this boy had a bubble butt that anyone would want to play with, including his girlfriend. I didn't want to ask too many questions that might get him uncomfortable talking about on his first visit, so for now I had left the butt-play alone. Turning back around, I told Andy how things were going to go and had him take a seat.
Putting on porn for Andy to watch he wanted to see some girl on girl action, and he reached down to start playing with himself. He made himself comfortable on the couch, getting in one position where he laid down. Andy was jerking off to the porn, stroking his cock with speed and power. I noticed that the more intense that he seemed to concentrate the wider his legs got. They were completely spread apart, up in the air, which lead me to the idea that maybe this straight boy might like to get fucked. Adjusting on the couch he sat up, and really his whole body started to tense up. Giving me a warning that he was about to cum, his orgasm seemed really powerful and that's when he started to shoot cum everywhere. The cum landed on his legs, the floor, and his stomach. After a workout and explosion like that I could understand why he was beat, so I gave him a second. I asked Andy if he wanted to come back for more and he said yes. That's when I asked if he would mind being paired up with another guy and he told me that we would have to talk about it later. He stood up and was ready to go take a shower, so he could collect his money and go.