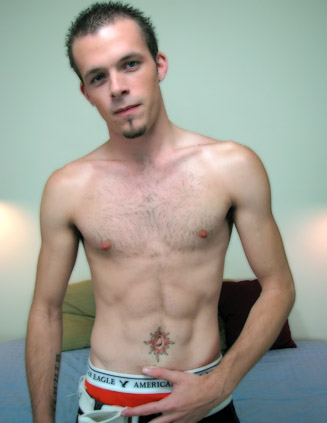 Jimmy contacted me to see about setting up his first shoot, after we swapped several emails back and forth. The day of the shoot he arrived and started by filling out paperwork, and from there we went into the shoot room. Taking a seat on the bed Jimmy was ready to get started filming. When the camera turned on, I started by introducing Jimmy. Then, the questions just started firing off one by one, and I quickly got to learn who Jimmy was. Jimmy grew up and lived in North Carolina, but relocated about a year ago to South Florida. He is straight, not in a relationship, has done some work in the adult industry before, but had a bad experience. With the economy at a low, he needed to come up with some extra money, and that's when he was turned onto the site by a friend. I explained to him that he was going to be doing a solo shoot, and would be walk away making $200. From there, we would look at bringing him back to make more money doing other shoots. He agreed to everything, so that we could continue on.

He said that he stands 5'11", around 130 pounds, size 12 shoe, and works out. Going for his shirt he stripped it off and underneath he had one of the greatest sets of abs that we have had here on Broke Straight Boys. Taking off his pants next, he had on a pair of boxer briefs that fit him well. As he sat there against the pillows I panned over his body with the camera. He had a very tone body, some chest hair that he kept trimmed, and overall was very attractive. He reminded me with his body type of Austin Grant, another model that has worked with us on many shoots originally from Tennessee. Not forgetting about his socks as he peeled them off he said that he had pretty feet, and that he was a guy that would notice a guys feet. Not that he had a foot fetish to say, but he liked good feet when he saw them. Jimmy started to play with his dick to work on getting hard, but I had him take his underwear down just so that we could see him completely naked.

After his underwear was off, this straight, 21 year old, hot boy, with an accent was left stroking his cock on the bed completely naked. I could only imagine him going on to doing an oral scene with another model. Jimmy's dick got bigger and it took a while, but once he got hard enough, he seemed to be progressing towards shooting his load. As his stroking changed to being faster motions with his hand and a steady pace. I noticed that his breathing also was changing and that's when I got the warning that he was about to shoot his load. When he came, most of it ran down his hand in one big line of cum that covered his hand. Afterward he did hold up his load to show just how much was there, and that was what we like to see from our models. Cum shots to be proud of! I asked Jimmy if he wanted to come back soon to make some more money in doing another shoot and he seemed to be really interested. I told him that we would talk on the phone about what we would setup. Most likely it would be some type of oral scene with another guy. With that we agreed to talk in the days to follow about more work for Jimmy.