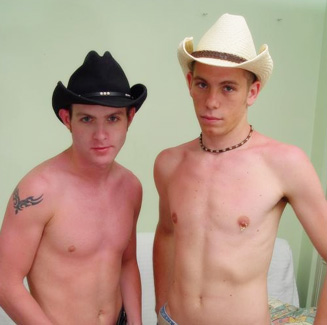 Nathan and Dexter have both done shoots with me before. Nathan has done a solo shoot, and this was the first time with me pairing him up with a guy. When we talked over the idea of him doing the scene he was fine with it as long as they didn't touch. I told him that would be good, plus hell he might have some fun. Nathan just rolled his eyes at me. Dexter was late to the shoot as usually and to my surprise they are both into the cowboy way. Now, to your surprise I didn't plan things that way, they just ended up happening.

We went to the shoot room and we went through the introduction. I had them take a seat on the couch. Nathan got extremely pissed off at Dexter for sitting next to him. Dexter just looked at me and didn't really know what to do. I told Nathan to cool the fuck out so that we could get going. are some new broke cowboys in town.

Lights, camera, action! With the camera rolling they seemed fine, and when I referred to Dexter's cock he got very annoyed. Whipping out their dicks they started to jack off, and Nathan made sure to keep his distance as he undressed. In jerking off, I had to keep them going so I had them go for the rest of their clothes. Removing the cowboy boots and the pants there were some white boys sitting here jacking off. Dexter had tattoos on his feet, and that was pretty hot. I had them both turn around so that way I could see their butts. Both were in great shape and had a butt you would want to grab on to. Take a look at Dexter and see all of this boy's tattoos.

Nathan had done a really good fuck scene with us before, and I wanted to see if he would do it again. Dexter was quiet, and just sat back on the bed. I told them to give me a second to run into my office to grab the new big box of condoms. I explained to both of them that we do everything safe here at BrokeStraightBoys. Taking the condom I handed him, Nathan slides that on like a pro and jumped into place. Nathan eased his way into Dexter's ass inch by inch. Dexter didn't make any noise until Nathan started to fuck him. Then, it was a whole different Nathan that started to appear. He was craving that dick inside him. He wanted to be fucked and harder.

Both guys moved into positions very nicely and most of the time without even pulling out. Fucking for a long time they both needed a break, so they just laid next to one another jerking off. Dexter shot his thick, creamy load and landed most of it at the base of his cock. Soon to follow was Nathan and he got it all over his stomach shooting a load bigger than I remember before. Look out Brokeback Mountain there are some new broke cowboys in town.