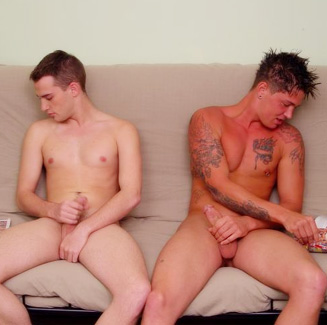 Jamie has done a shoot for us before, with another hot model. He gave me a call and needed to
make some more money. Jamie brought along his sister's new boyfriend, Phoenix. He just got out of
prison and he said has never wanted anything to do with fags. Jamie told him it would be an easy
way for him to make some cash for him to take out the girlfriend for her birthday. Phoenix decided
to give it a shot and see how much he could make.

Both guys right from the start had a great sense of humor. When I made them take off their shirts,
Phoenix was covered in tattoos and Jamie just has piercings. Sitting there side by side, Jamie looks
like a ghost compared to Phoenix's tan. Going for the rest of the clothes, both guys start to reveal
the rest of their bodies getting down to their white underwear. Phoenix didn't know what to do, so I
had him slide off his boxer-briefs and he covered his cock. Sitting down on the couch next to Jamie,
and that is when you get the first chance to see this fucking hot guy's cock. Overall look at Phoenix's
body and personality. He has the bad boy attitude, and the smooth, tan, v-lines, great abs, bubble
butt features to make him hot, desirable, and straight.

Magazines sitting by their sides, both guys jerk off there on the couch. Stroking there for a while, I
picked up Jamie's hand and tried to get him to touch Phoenix's dick. Phoenix pushed it away and said
that he wasn't gay. Blackmail is always a go good thing to have in your pocket. I reminded Jamie
that I had him on camera with Aiden, and he couldn't believe that I was bringing that up. Well, for an
extra $200 they both agree to stroke each other's dick. The room got very quiet when the hands
crossed each other and started jerking off. Both guys seemed to try and ignore what was going on,
and kept their eye on the magazines.

I told Jamie to wet his mouth because he was going to give Phoenix a blow job. He didn't want to,
and couldn't believe that I was going to do this to him again. Once again I told him that I would give
him some extra money for doing it. Then, I just moved over to Phoenix and told him to fuck Jamie
and it would be like going to town on Jamie's sister. They both don't like that idea, so I go back to
sucking dick. FINALLY, after debating it for ever I get both of them to agree to do it for more money.
Jamie goes to town on Phoenix's cock first. Phoenix goes next and seems to be having a good sense
of humor, and he even deep-throats the cock.

Now, I didn't want to just stop things, so in really debating pay, I got both guys to agree to a fucking
scene. Jamie got down on all fours, and Phoenix got in behind him. Phoenix stuck his cock in nice and
slow and started fucking. With slow deep glides into Jamie's hole things were going nicely. Then
Phoenix started freaking out, and couldn't believe what he was doing. We had to take a little bite of
a break, and then he agreed to finish the scene. Sticking it in, he started going slow, and then
picking up the speed. I had them change positions and Jamie got on his back. With legs in the air, in
this position he started to moan with the fucking. Jamie then stopped the scene, because he was in
so much pain from Phoenix's cock being so big. Jacking off, they both cummed on Jamie's stomach
and it was a great way to finish up the scene. I am hoping to have Phoenix back in here for another
shoot here soon. I am sure that everyone will enjoy him.