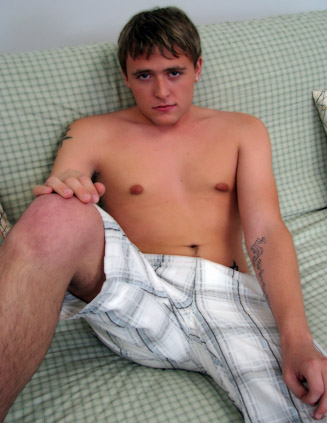 Owen is our first preppy, Ivy League type, to sit on our casting couch to do a shoot for money. He is 19 years old, straight, has had girlfriends in the past, but is currently single. When I asked him to tell us a little about himself, he said that he drives a BMW, and got pretty much whatever he wanted. However, recently his parents lost most of their fortune in a stock market scandal leaving them broke and scrambling for employment. It was because of this Owen was told that he needed to help out and would have to get some money for college, and his own expenses. He said that his car is paid off so no worries about repos. In the process of looking for jobs online he came across one of our ads and from there became interested in the kind of money that we claimed he could make. We went through the approval process and then I setup him to come into the studio to do a casting couch shoot. I asked Owen if he knew what a solo shoot was, just to make sure that we were on the same page of what I want from him. His response was that he was going to jerk off by himself and put on a show.

I had Owen stand up for me to get a better look over his body and what he looked like. Taking off his shirt, his smooth chest was revealed and on it were two tattoos. When I asked him what his parents thought, he told me that his dad was the only one that had a problem with them. Going for his shorts next, he was left in a pair of brief shorts, and I asked him some more general questions. He stands 5'8", 150 lbs, has size 11 shoes, and his cock is cut. Owen said that he likes to spend a lot of his time in the water swimming, and that he even was on his swim team in high school. I told him to take a seat and that I would put some porn on for him to watch. From there he could started to play with his dick inside his underwear making it so we couldn't see much, until he pulled his cock out. After Owen got a little more comfortable he took the briefs off and was left sitting there on the couch naked. As he jerked on his dick to work on getting hard, he made great eye contact with the camera. At the base of his cock he had a bush of pubic hair and a happy trail that went up to his belly button. With his dick becoming harder and thicker from him playing with it, Owen had a big cock. From looking at the size of that thing, it looked like it could stretch an asshole apart for sure.

Every time that Owen would jerk his dick his big, and I mean big balls would flop up and down. When I had asked him the last time that he got off he said a couple of days ago, so that meant that for sure those huge balls were going to explode everywhere. Watching him jerk off he didn't really change position a whole lot, but he did grab the back of the couch and spread his legs wide apart. As he got more turned on, his stroking seemed to get faster and he gave me a warning that he was getting close. The biggest sign for me that it was just moments away from him releasing his load was when his jacking technique changed to just an up down motion. Like a squirt gun, his cock shot cum straight up into the air landing on different parts of his chest, arms, and stomach. After shooting a load like that Owen had to be relieved, and I told him that I would get him some washcloths to clean up. I asked Owen if he would like to come back to do the oral scene and I knew he didn't have a problem getting his dick sucked, but that I needed him to give oral back. He said that he would be up for doing it, and I told him that if I setup the shoot he better not chicken out on me. We will see if the next time Owen comes in the studio if he puts a dick in his mouth.