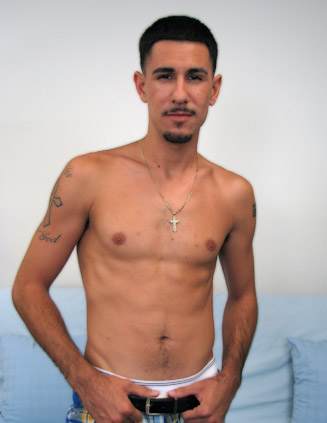 Ricky is our newest Broke Straight Boy who lives here in Florid. He was born in the US, and he parents came over from Cuba. I explained to Ricky that he was doing a casting couch shoot, which is a solo scene, and that he was going to walk out after with $300; however, my intention was to have him come back and do a bunch of work with us if he did well with other models. As we got started we talked about how he has a girlfriend of almost two years, is very broke, has no job, and still lives at home with his folks. I asked him if his girlfriend had any idea of what he was doing here, and he responded by saying that she thinks he is repairing carpet for some temp work. That's a new story I have never heard before as a cover for starting a career in porn.

Once I learned the back story behind Ricky, it was time to get the shoot moving along. The first thing I needed Ricky to do was take off his shirt. As his skin was exposed, right away I noticed that this boy was a stick! He weighed in at 120 pounds and stood 5'9". As he took off his pants, I asked him how big his dick was and he said that he was around 7.5 inches long. I told Ricky to take a seat on the couch in front of the camera and work on getting hard. He also told me that it had been 3 days since he last jerked off or had sex so he should have a good size load for us. As he stroked his cock inside his underwear, he got hard enough that he had to pull it out to keep going. This boy had a big dick for having such a small build.

I made Ricky stand up for me in order to show it for to the camera. That's when he took off his underwear, threw them to the side, and returned to sitting on the couch. He stood there without pubic hair and his cock pointing straight out. He was horny and had a load just waiting to burst out of him. He liked to jerk off dry and stay in one position the whole time. After a while, his breathing changed and got faster to match the speed of his jerking off. All of a sudden, several squirts of cum shot out of his cock running down the side of his hand. From what I saw it wasn't bad, but when I moved over to the side to change angles most of the cum went down the front of his hand. After that, Ricky said that he felt much better after releasing a load that big. I told him that I wanted to bring him back for some more work soon, and he said he was interested in talking some more.