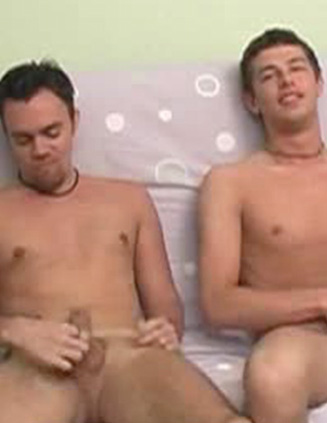 What can I say; I think that a brush of good luck sent me two guys that worked at Home Depot
together. They saw one of our ads in the newspaper, and thought that they would give it a shot. Both
seem to be very broke right now with bills and aren't making ends meet with there minimum wage
jobs. Dakota is 23, and the manager of the lawn and garden department, and Jacob is one of his
employees. I explained to both of them what was going to happen and they were cool with things.

They got undressed and ready for the camera. Rubbing their cocks in their underwear, Jacob was
concerned with not taking his cock out until he was hard. They seemed to be doing great, and I
decided to start to test their limits. I figured that Jacob always has to do what he is told. Why not
switch things around for a change, and I asked to have Dakota give him head. There was some
hesitating, but with some time to think about things he agreed to give it a shot. He just didn't want
to do it for a long period of time.

Slowly leaning down, he placed his mouth over the cock. Putting his mouth over it, he consumed his
dick. Dakota was very worried, about not doing things right. He even stopped a couple times to
make sure that he was doing ok, and to see if I had enough. Sure enough, I figured they both went
for oral. I offered them both more money to let Jacob fuck Dakota. Now, Dakota really didn't want
this to happen. I asked him how much they both make and what this money would do for them. That
is when they realized that they really needed the money.

Dakota said that he would give it a try, and we could take things from there. Jacob hasn't had that
many experiences with sex. I had him put the condom on and then lube it up. Getting in behind
Dakota, he inched his way in slowly. We had to try again once he was in, and this time with even
more lube. Jacob pulled out, and then slowly sled forward. We are now filming a fucking scene with
two straight boys. Both seemed to be doing well, and then I had them take a seat next to one
another. Jacob took a hold of Dakota's cock, and within a few short minutes Dakota was cumming.
He shot this huge, white load all over his stomach.

It was time to have Jacob shoot his load. He had lost his hard on, and so he had to get it back again.
That took a while to happen, and I had to turn on some porn. Once he was hard it didn't take long
before there was precum. Jacob shot lots of clear precum all over himself. Then, came the creamy
stuff and thick too. It went all over his stomach, and both guys were feeling sticky. Both did a good
job, and I think were just relieved when the shoot was over. I don't know if they will be back again.
I think they will have to see if they are really hurting for money to come back.