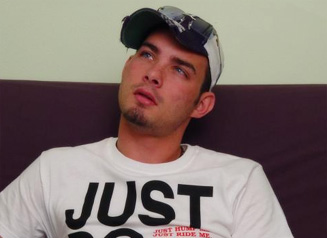 MJ was hanging out at the beach before our interview. He came by and we went over everything that was going to happen. I had MJ take a seat and start getting undressed. He had a really nice tan going on for so early in the year. He told me that he has been spending a lot of time at the beach so that way he could get all the girls. MJ stripped his shorts, and his overall body looked great. He was average height, good muscle tone, tan and horny.

Once MJ was jerking off and hard, things seemed to be on a roll. I had another guy come by for an interview for another site and his name was Talon. He was 20 also, and didn't mind jerking off next to a straight guy. As far as Talon's build goes, he almost had the same build as MJ just not as thick. Both guys had really nice cocks. MJ sat there on the couch watching the straight porn while Talon had his eye on MJ and his cock.

Sure enough I had to see if I could make the two of them interact with one another. I offered MJ an extra $50 to have Talon suck his cock, and he was really pissed off with me off camera that I didn't tell him I was going to ask him that. However, I know that all straight guys have a price. So, I put a little more on the table and he took it with the understanding that he wasn't going to do anything else. He sat back and kept his eyes glued to the TV. He did not want anyone to see him getting head. Deep down, I wondered what was going through that thick head of his.

I always have to push the guys to their limits just to see what they will do. Of course, I wanted to see what it would take for MJ to suck a cock. With some work, we agreed on $500, enough for MJ to have a down payment on a new car. He was really mad, but seemed to get over it after some time in the shoot.

MJ reached over and took a hold of Talon's cock, making it known that he did not want to do this. Finally, he got the nerve and started to suck his first cock. Talon enjoyed having this straight boy go down on him. MJ stopped every once in a while to catch his breath.

MJ shot his hot, steamy load all over his stomach. I am very sure that he was glad to have it over. Talon was very turned on with everything that went on in the shoot. He too shot his load all over his stomach. As soon as the camera was off, he ran and got in the shower and washed off. Plus, we went for the mouth wash for 15 minutes--no joke. I don't know if we will ever see MJ again so keep up with us to find out.