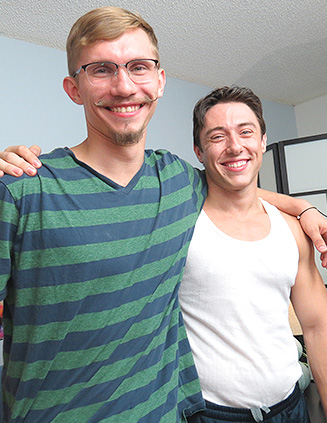 The scene begins with Darron and Archie making out passionately. Their hands begin to roam freely over each other's bodies. Darron's hard-on can be seen wiggling inside his green Hanes briefs. Archie suddenly removes his navy colored underwear, revealing his fully erect cock. Darron caresses Archie's cock with his hand and then kisses the supple penis head. Then Archie's hard dick goes all the way down Darrons throat. After the blow job Darron's feet make an appearance as his white socks are removed. Archie starts fondling Darron's massive erection through his briefs, with an excited smile on his face. Suddenly, Darron is thrusting his enormous cock deep into Archie's eager mouth. The two men lose themselves in the moment, their bodies entwined in a sensual embrace.
With Darron's massive cock stretching out Archie's throat, both men are pushed to their sexual limits. Despite the initial challenge of fitting Darron's dick into Archie's tight oral cavity, Archie proves himself to be a skilled bottom, eagerly taking everything Darron has to offer. As the intense face fucking continues, Darron begins to assert his dominance through body language cues, urging Archie to bend over and present his ass for penetration. A wet tongue swiftly pounces onto Archie's puckered hole. Darron is rimming Archie getting his hole ready for what is next. The sight of Darron's cock sliding in between Archie's feet as he rims the hole adds to the moment. Meanwhile, Darron's skilled tongue works its magic on Archie's puckered hole, teasing it with delicious licks that make Archie squirm with delight.
When the hole is wet and ready Archie assumes a position on his back. Darron slides his large cock into Archie's tight butt, both men feel an intense sensation that cannot be ignored. Darron's powerful thrusts hit all the right spots, causing Archie to let out blissful moans of pure pleasure. Darron pounds away at his bottom until he gets close to climax. He then blasts wads of cum all over Archie's pink hole, only to stick it back in after. Archie decides that he wants to top Darron next. But first Archie is gonna clean the cum off of Darron's big dick using his mouth. His tongue then moves to Darron's butthole. Archie rims Darron to prep his hole before fucking him raw. From top to bottom these guys have the energy to flip fuck. During Archie's turn on top Darron smiles with enjoyment. Archie thrusts away, inching closer to erupting. Soon it grows to be too much and Archie pulls out and squirts sticky white cum all over Darron's muscular butt. Archie shoves his rod back inside to glaze Darron's inside with his semen. The scene comes to an end with both guys completely exhausted.