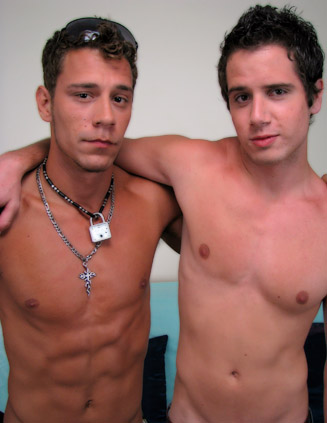 I brought both Josh and Tom in to do a shoot, because I knew that they had about the same body type. Josh is the younger of the two and he still classifies himself as straight, but gay for pay. He has opened up to doing more scenes with guys, and that has been my reason for bringing him back. In setting up the shoot I was able to get them both to agree to a day and time that we could go with later on in the week. When that day came Josh was the first one to arrive at the studio and he was looking forward to doing the shoot. As soon as Tom arrived I got them both to go and take a seat on the couch so that we could start filming. I told both of them that I expected them to do anal, and that I wanted the greatest shoot that they could give me. Both Josh and Tom seemed a little shocked that things were moving that fast, but Tom said that he would fuck Josh. However, Josh wasn't down for getting a dick up his ass, and Tom didn't want to give it a shot until after his birthday. It seemed as my hopes for anal were out the window, but both of them agreed that oral could be done.

Since neither of them had seen the other one naked, it was time for them to get undressed. I had both of them stand and start with their shirts off. Tom was quick about it, because he had on a shit load of jewelry that had to come off. Josh had a button down shirt, so it did take him a little while to unbutton his shirt. After their bare chests were exposed they both showed their well-toned muscles to the camera. Josh even had to help Tom with one of his chains, and then I had them turn to face each other. Right away, Tom wanted to know if I was going to make them kiss. I wasn't, but since he asked I was curious if they would do it. Tom asked if I would give any extra money and told them I would toss them an extra $100 a piece. The both of them looked at each other and Tom told Josh to kiss him, and that's when they took a step towards each other and their lips touched. It only happened for a brief second, and afterward I asked if they could show any sign of passion and the both of them laughed. Giving me a second kiss, this time they used a little tongue, and it was hot.

My next request was to have them take the other one's pants off, and they did leaving them standing in their underwear still facing each other. To get them to start making contact with each other, they reached out and started playing with each other's dicks. The touching was light, and seemed to be working, because they both were getting turned on. Their underwear came down and I had the touching continue, feeling another guy's cock in their hand. Both seemed to enjoy the moment, and I asked if there were any volunteers for giving oral first. Josh stepped up to the task and that's when I had him drop to his knees right there in front of Tom. He took the limp cock in his mouth and began giving head and sucking on the cock. Josh and Tom were both talking dirty to each other and that was a good sign that there was a connection between them. Tom even face-fucked Josh with his huge, thick cock, and showed some dominance while he did it. He said that he was getting close to cumming and that he only needed about two more minutes. Josh kept up his technique of using his mouth and hand in coordination with each other.

After several minutes it was unclear if Tom was going to be able to get off and Josh wanted to know when it was going to be his turn to get some head. I told them to go ahead and switch now, and we would see how things go. Josh took a seat on the couch, put his head back and let Tom go to work on getting him hard. Tom put the soft cock in his mouth, sucking on the tip and using his other hand to jerk the dick. When I looked up at Josh to get his reaction, Josh was licking his own armpit and that was a fetish I didn't know he had. Tom didn't last long giving oral and before long the two of them were jerking off next to each other watching the porn that was playing. After only a matter of a few minutes Josh started to have an orgasm and his face showed it. Then, he shot his load all over his hand, and it was one of his smaller loads, but he still got off in the shoot. I knew that Tom was still going to need some help, so I asked Josh to lend him his mouth one more time. Josh was nice about it and he let Tom face-fuck him one more time. Then, I noticed that the two of them kept the dirt talk going a little longer and Tom seemed to enjoy Josh talking dirty to him. Josh wanted to see Tom shoot his load all over himself, and then it happened. Tom's cock came like a fountain, first with pre-cum, and then with the thick, white cum that he had saved up. These two did a great job, and I hope to bring them back for fucking soon.